Archive for July, 2011
Tein aikanaan Ropeconille huumorivideon nimeltä The Making of Ropecon 2006. Nyt sekin on YouTubessa:
Ropecon on ensi viikonloppuna, ja meitsi on mukana seuraavissa ohjelmanumeroissa:
Unelma Keltaisesta kuninkaasta -julkaisutilaisuus
Perjantaina 16:30 – 17:30 klondykessä, vetäjänä Juhana Pettersson
Unelma Keltaisesta kuninkaasta -kirja kokoaa yhteen 12 parasta tanskalaista yhden illan roolipeliä. Julkaisuesitelmässä pelien tanskalaiset tekijät ja kirjan suomalainen kustantaja kertovat peleistä, projektista ja siitä, miksi tanskalaiset pelit ovat niin hienoja. Ohjelma on osittain englanniksi.
Roleplaying Magazine Panel
Perjantaina 22:00 – 23:00 auditoriossa, vetäjänä Henri Hakkarainen
Roleplaying magazines are born and die all the time. Some of them end up legendary, some of them end up being not spoken again. In this Ropecon panel, the Guest of Honor Erik Mona and Finnish roleplaying magazine scene veterans compare their experiences about roleplaying magazines.
Tsekkaa kustantajamme Pohjoismaisen roolipelaamisen seuran muu ohjelma täällä.
Unelma Keltaisesta kuninkaasta ja muita tanskalaisia roolipelejä on kokoelma Fastaval-pelitapahtuman puitteissa syntyneitä yhden illan pelejä. Sen toimittivat minä, Kristoffer Apollo ja Tobias Wrigstad. Virallinen julkaisuhäppäri on 29.7.2011 Ropeconissa. Kirjaa saa pikapuoliin Fantasiapeleistä.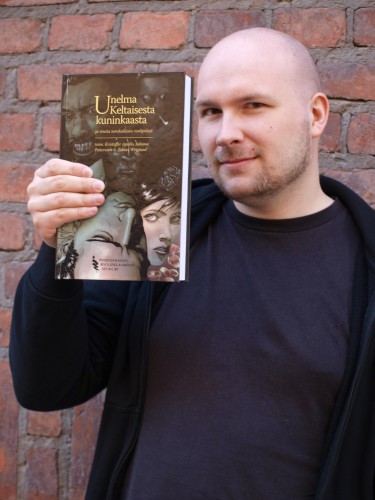 (Kuva: Maria Pettersson)