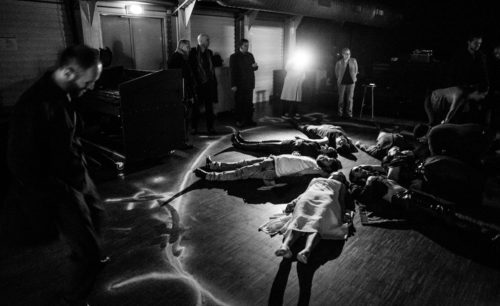 A larp based on Vampire: the Masquerade produced by Participation Design Agency with White Wolf Entertainment and Oneiros.
Date: 23.11. – 25.11. 2017
Participants: 30
Location: Brussels, Belgium
Venues: The European Parliament, suites in Hotel Mozart and Hotel Metropole, De Witter Leirsse 1557, Arc de Triomphe, Chaloupe d'Or, among others
Duration: A five hour workshop on Thursday, full day of larp on Friday, larp from morning to afternoon on Saturday followed by debrief and afterparty
Concept
Parliament of Shadows is a Vampire: the Masquerade larp played partially in the European Parliament where the characters are the servants vampire employ to influence mortal politics. Following larger trends in the world of Vampire: the Masquerade, the servants are left to fend for themselves and search for new masters. The events of the larp are about these lobbyists coming to Brussels to lobby the proposed ESTA law on behalf of their masters while also searching for the vampire blood they need to survive.
Aesthetically, the larp is built on the idea of indexical larp, where fiction and reality correspond as closely as possible. So the characters are lobbyists working on an actual EU law, in actual EU locations, meeting MEPs played by actual MEPs, this case Miapetra Kumpula-Natri from Finland and Julia Reda from Germany. The restaurants and hotels we used are also used by lobbyists in real life. As we were holding our workshop, the French Permanent Representative to the EU was holding a cocktail party in the same building.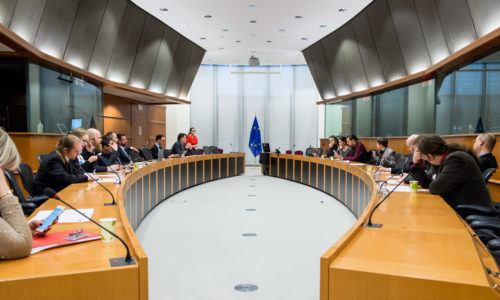 Credits
Designer, writer and producer: Maria Pettersson, Juhana Pettersson & Bjarke Pedersen
Executive Producer (Participation Design Agency): Johanna Koljonen
Executive Producer (Oneiros): Tom Boeckx
Producer (Brussels): Anne Marchadier & Wim Peeters
Runtime organizer: Tonja Goldblatt
Documentation: Tuomas Puikkonen
Documentation
23.1.2018 – nordiclarp.org / the book Shuffling the Deck: Juhana Pettersson: Lobbying for the Dead – Vampire Larp at the European Parliament
5.12.2017 – Image-blogi Pikseliparatiisi: Juhana Pettersson: Larppia Europarlamentissa