I started to feel that I didn't know roleplaying games well enough so I came up with the plan to read a roleplaying game corebook for every year they have been published. Selection criteria is whatever I find interesting.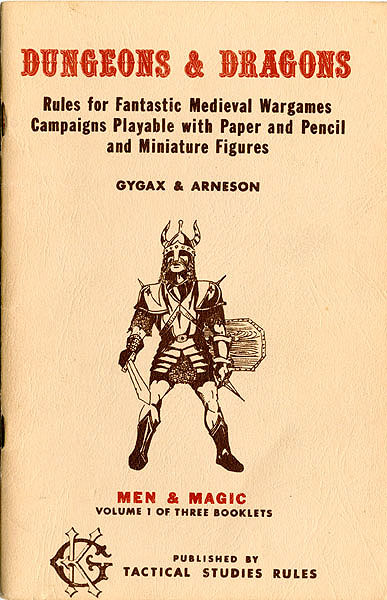 The first roleplaying game, Dungeons & Dragons in its original 1974 edition! For 1974, I actually had a choice between this and the manuscript edition of Empire of the Petal Throne, but I felt I couldn't skip the game that started it all.
The original edition of D&D is strange to read because many of the conventions of how roleplaying games are designed and presented are not in place yet. My favorite is the way the text refers to "adding pips to the result of a die". In modern games, you would express this like so: 1d6+1, meaning roll the die and add one.
This is a set of rules for the purposes of playing a game where each player controls one character, under the watchful eye of the Referee who runs the game. The characters explore dungeons and wilderness environments, kill monsters, find treasure and beat challenges. Or run away to lick their wounds and fight another day.
Reading the three booklets of the game, it feels as if the designers were collating rules notes for the use of their own scene. There's no explanation of play culture so you end up guessing what it might be like based on small hints.
Some of those hints are quite confusing. At one point, it says that the optimum player/Referee ratio is 20/1.
At this point in its development, D&D doesn't contain everything you need to play. It often refers to Chainmail, even in basics like combat. It also uses another earlier publication, Avalon Hill's Outdoor Survival. Wilderness adventures in D&D use the other game's map.
The basic assumption in D&D is that the Referee plans a dungeon (recommended depth: 12 levels) and the player characters explore it. They can return to the same dungeon over and over again and it can contain pretty much anything from a monster lair to a bowling alley.
When not dungeoneering, the characters build castles and towers. They hire people to work for them. These hirelings are expected to participate in adventures, so the adventuring party can consist of dozens of people.
Because the rules are so spartan, it's fun to see what kind of things get an extended treatment. There's a complicated system for enslaving dragons and even selling them. Another pet subject is intelligent magic swords that can take over their wielders. Rules for aerial and sea combat are also provided.
D&D clearly doesn't describe roleplaying as we understand it today, but it's also hard to see the specific outline of how it worked forty years ago. It feels as if to properly get it, you needed to be a wargames aficionado at Lake Geneva in 1974.