I started to feel that I didn't know roleplaying games well enough so I came up with the plan to read a roleplaying game corebook for every year they have been published. Selection criteria is whatever I find interesting.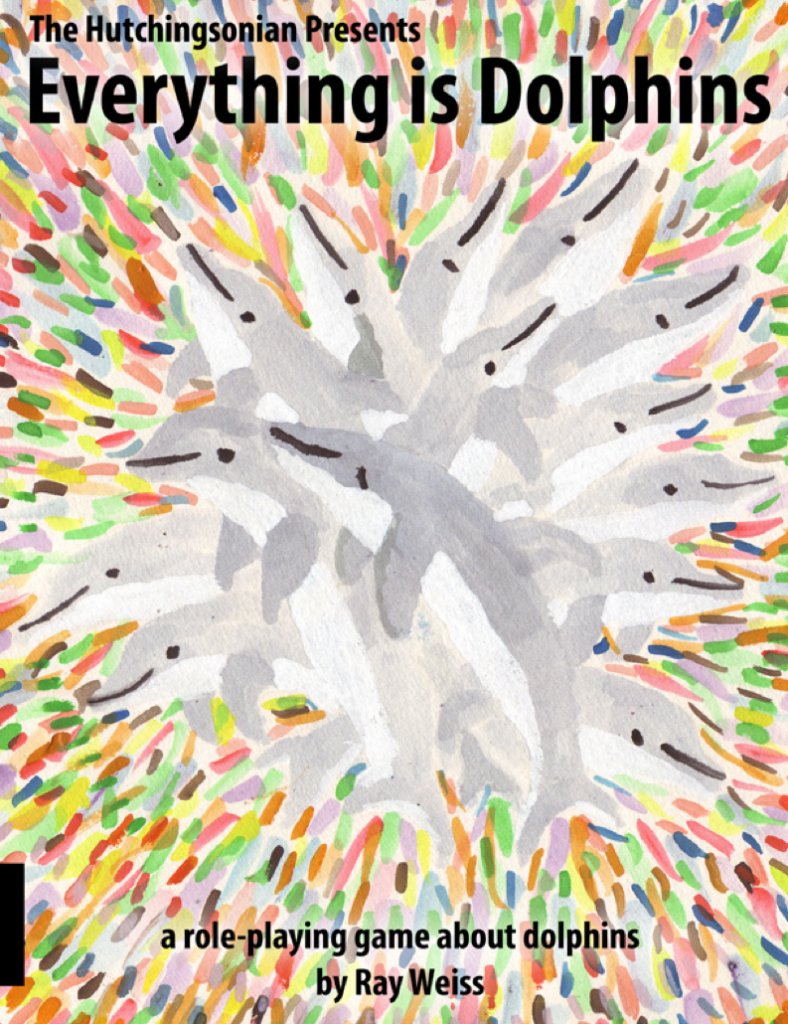 This is the first project I ever backed on Kickstarter! Everything is Dolphins is a roleplaying game in which you play doplhins. I supported it out of kinship because I'd recently published my own animal-themed roleplaying game Valley of Eternity.
As a roleplaying game, Everything is Dolphins has simple OSR-style mechanics, relying on gorgeous visuals on every page to convey the theme and subject matter. Indeed, it feels like a dolphin-themed artbook with the ccasional snippet of game text.
What's really interesting about the game is it's publication philosophy. It draws from an archive called PLaGMaDA which collects the ephemera produced by playing games. This is a very familiar subject for me: I still have all the papers from my childhood D&D games, 30 years later.
As published, the game is a refined version of materials donated to PLaGMaDA by the designer Ray Weiss. The original version, in pencil on graph paper, is included in the game book as an appendix.
In this sense, the goals of the book are different than usual in roleplaying games. Motivations like the preservation of play culture change the dynamics of what's meaningful to publish. Still, the the book is also an invitation to marvel in naïve astonishment at the beauty of the dolphin.
Everything is Dolphins builds bridges between roleplaying games and art and archival communities. I've been involved in a few similar projects: Maa (with Matthew Day Jackson and Tom Morton) was also an artworld crossover game and Bad Sex: The Roleplaying Game has found traction at erotic art festivals and among sex workers.