In my A Game Per Year project, my goal has been to read one roleplaying game corebook for every year they've been published. However, I soon started to feel that it was hard to decipher how the games were really meant to be played. For this reason, I decided to start a parallel project, An Adventure Per Year, to read one roleplaying adventure for each year they've been published.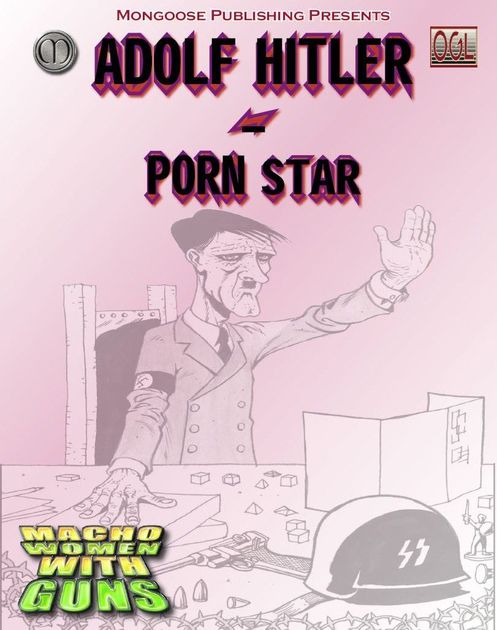 I originally read the comedy roleplaying game Macho Women With Guns some time in the early Nineties in its Finnish translation Aseistetut machonaiset. At that time, I was a pre-teen, a perfect age for this material. Now, 25+ years later, I read the adventure Adolf Hitler – Porn Star, published for the D20 edition of the game.
In Adolf Hitler – Porn Star, the characters are hired to find a movie reel where Hitler and Eva Braun are having sex. They travel to a Mediterranean island where a fighting tournament takes place and dive to the bottom of the sea to the hulk of an old battleship.
Much of the humor is based on risque wordplay and game mechanical details, such as the impact of a character's bra size on her ability to crawl through ventilation shafts. Reading the adventure, I wasn't entirely certain what the intended playstyle was. In between the references to breasts and sex, there was also a detailed mechanism for determining how much air a character has left when they make the dive in pursuit of Hitler porn. It stood out, suggesting that in a sex comedy, it's imperative to deal precisely with diving logistics.
Assessing this adventure after reading it, I have to say that I was disappointed for one simple reason: The title Adolf Hitler – Porn Star suggests the presence of Adolf Hitler in the role of a porn star. It implies that we will be presented with a take on what that would look like.
Yet at the end of the scenario when the characters might have an opportunity to witness Hitler's sexual shenanigans, the scenario refuses to go into detail.