In my A Game Per Year project, my goal has been to read one roleplaying game corebook for every year they've been published. However, I soon started to feel that it was hard to decipher how the games were really meant to be played. For this reason, I decided to start a parallel project, An Adventure Per Year, to read one roleplaying adventure for each year they've been published.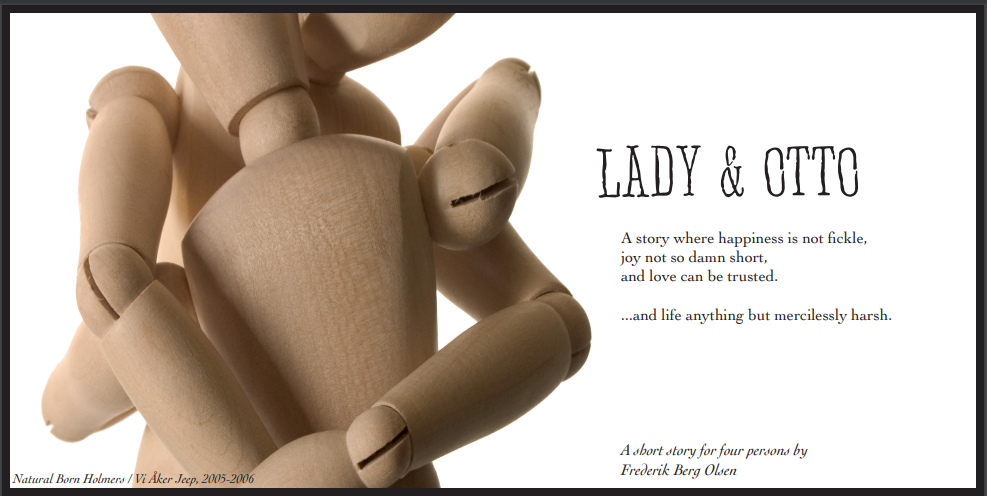 Lady & Otto is one of the games that came out of the extremely fruitful Jeepform movement that flourished in the Nordics around ten years ago. The Jeepform games tended to follow a scene-based, mechanics-free structure that played around with elements such as repeating key scenes over and over, changing character ownership and extremely dark themes.
This last thing is important for understanding Lady & Otto, a short scenario where any sort of unhappiness and drama is strictly forbidden. In these saccharine times this game might be described as wholesome, but it's central tension comes from the tendency in fiction towards conflict.
There are four players who make up two couples consisting of Otto and the Lady. The couples are entirely happy and content. The pairs play out conflict-free minimalist scenes, repeatedly.
The game assumes that players will introduce conflict and problems spontaneously while they try to come with things to play during the scenes. The facilitator is tasked with stopping such activities immediately and cutting back to happy times.
Obviously, this is a very conceptual game. It's interesting how it's concept feels different now in 2021 than when it was originally designed. It stands out among the extremely grim Jeepform games but in the context of today it feels much less strange. In a way, I explored similar territory of enforced happiness when we made the larp The Perfect Human with Jaakko Stenros, about the people in stock photos.