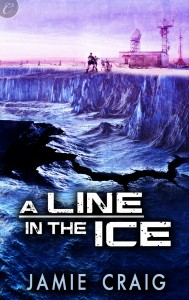 Novel: Jamie Craig: A Line in the Ice (Carina Press, 2011)
Jamie Craig's A Line in the Ice is the first Antarctic Harlequin book I've read. Polar literature is not usually big on romance or sex, and this book has plenty of both.
Charlie is a member of a small American team of soldiers sent to Antarctica to fight against a dimensional rift that regularly spits out individual and easily killed monsters. Her love interest also appears from the rift. He's a tall, handsome, brooding, earnest man called Lysander.
I don't really have a problem with the conventions of romance. Lysander immediately falls in love with Charlie, and they seem to have surprising amounts of time to spend together in bed, but so what? That stuff is the meat of a book like this.
Unfortunately, this makes the book hard for me to write about. I feel like a porn critic writing about something that isn't even meant to appeal to me. The setting, the characters, everything in the book is tedious and unimaginative, but maybe that's beside the point if the emotional action between Charlie and Lysander feels appealing.
There's one strange scene in the book I can comment on. At one point, Lysander feels necessary to mutilate and murder a conveniently evil prisoner with his bare hands. After this emotionally exhausting task, he gets the "oh you poor dear" treatment. Reading that, I started to suspect I was behind the times in terms of what was required of a male lead in a romance.