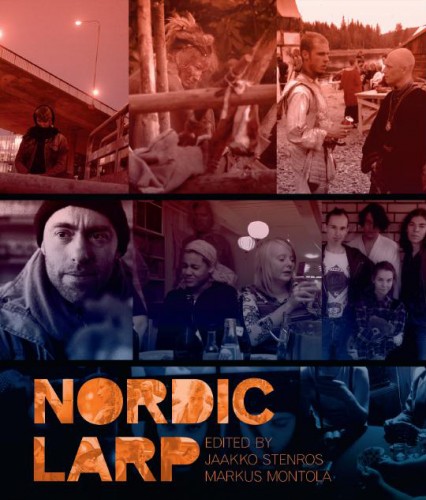 Nordic Larp, an excellent collection of articles about games in the Nordic Larp tradition has won the prestigious American Diana Jones Award for Excellence in Gaming. The collection was edited by Markus Montola and Jaakko Stenros, and I contributed an article about the game Luminescence.
Here's the Finnish press release:
ROOLIPELIALAN MERKITTÄVIN PALKINTO SUOMALAISILLE
Pohjoismaista live-roolipelaamista esittelevä taidekirja Nordic Larp palkittiin Diana Jones Award for Excellence in Gameing -palkinnolla. Vuosittain jaettava palkinto on roolipelialan arvostetuin, kuin roolipelien Cannes'n  Kultainen palmu. Nordic Larp -kirjan ovat toimittaneet Jaakko Stenros ja Markus Montola. Palkinto jaettiin Gen Con -tapahtumassa Indianapoliksessa myöhään keskiviikkoiltana.
"Pohjoismainen larppaaminen on merkittävä ja elinvoimainen oksa pelaamisen sukupuussa, ja se täysin ansaitsee suuren ja kauniin kirjan joka ottaa larppaamisen ja pelihistorian vakavasti," palkintolautakunta perustelee päätöstään
Viimeisen 15 vuoden aikana Pohjoismaissa on kehittynyt ainutlaatuinen osallistava ilmaisumuoto. Pohjoismaiset larpit muodostavat tradition, joka yhdistää elementtejä roolipeleistä, teatterista ja performanssitaiteesta. Roolipelaaminen ja larppaaminen harrastuksina syntyivät 1970-luvulla, mutta erona tähän traditioon pohjoismaiset larpit tarjoavat viihteen ohella myös vakavia vaihtoehtomaailmoja, jotka tutkailevat esimerkiksi pakolaispolitiikkaa, sosiaalista epätasa-arvoa ja sukupuolikysymyksiä. Nordic Larp -kirja dokumentoi ensimmäistä kertaa tämän tradition. Teos esittelee 30 larppia ymmärrettävin tekstein, satojen valokuvien siivittämänä. Nordic Larp piirtää kuvan larppaamisesta, joka asettaa sen myös teatterin, taiteen ja pelikulttuurin konteksteihin.
Kirjan toimittajat Stenros ja Montola yllättyivät voitosta. "Diana Jones -palkinto on varsin amerikkalainen – on suuri kunnia pohjoismaiselle teokselle päästä edes ehdolle," Stenros sanoo. "Se, että palkinto tuli tänne pohjoiseen – varsinkin kun ehdolla oli tunnettuja roolipelejä, lautapelejä ja jopa Kickstarter-palvelu – on ihan mieletöntä. Me näemme tämän palkintona koko pohjoismaiselle larppikulttuurille."
Stenros ja Montola ovat muutenkin olleet hyvillään kirjan saamasta vastaanotosta, varsinkin kun sen tekeminen oli monella tapaa hyvin haastavaa. "Larpin dokumentoiminen on hyvin vaikeaa. Kun peli loppuu, se katoaa. Siitä ei jää kuin muistoja ja ehkä valokuvia. Sitä ei voi koskaan kokea uudelleen. Mutta harmillisen usein pelaajat, jotka kertovat kokemuksistaan ovat niin kokemuksensa sokaisemia, että kuulija ei ymmärrä mikä pelissä oli niin hienoa," Tampereen yliopistolla pelejä tutkiva Stenros kertoo. "Nordic Larpilla halusimme dokumentoida tämän ainutkertaisen ilmaisumuodon tavalla, joka välittää edes hitusen kokemuksen suuruudesta. On ihanaa, että se herättänyt niin paljon kiinnostusta ja keskustelua."
Kirja tuli myös hyvään saumaan. "Kiinnostus kokeilevaa larppaamista kohtaan kasvanut viime vuosina. Uteliaita tutustujia saapuu yhä kauempaa, ja luennointikutsuja tulee niin oppilaitoksista kuin festivaaleiltakin", Stenros sanoo."Erityisen mielenkiintoista on se, että yhä useammin kiinnostunut ei ole larppaaja tai roolipelaaja, vaan alasta ja sen menetelmistä kiinnostunut ammattilainen osallistuvan teatterin, visuaalisen taiteen, osallistavan opetuksen tai business simulaatioiden alalta. Pohjoismainen larppitraditio vaatii liian suurta omistautumista saavuttaakseen todellista suurta suosiota, mutta sen piirissä tapahtuneet innovaatiot leviävät ympäri maailman."
Stenros ja Montola palkittiin viime kesänä merkittävimmällä suomalaisella roolipelialan tunnustuksella, Kultaisella lohikäärmeellä.