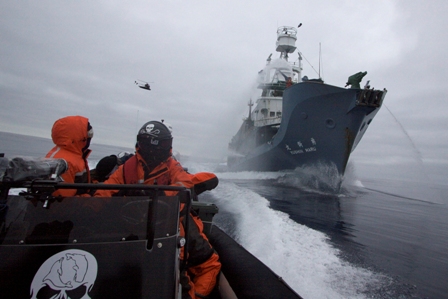 (Whale Wars)
Tv series: Whale Wars: Seasons 1 & 2 (U.S.A., 2008-2009)
Whale Wars is a documentary tv series about the campaigns the environmental organization The Sea Shepherds conducts in the Southern Ocean. They disrupt Japanese whaling operations by harassing them in various ways.
In the first two seasons, we see The Sea Shepherds use the ship Steve Irwin, a helicopter and a couple of speedboats to do things like throw stink bombs onto the decks of the whaling ships, attempt to render their propellers useless with long ropes and even board the Japanese ships and forcing the whalers to take them prisoners.
In my particular social bubble, this is the great show nobody seems to be watching, although the number of seasons, special episodes and spin-offs suggests that it has been successful. Every episode features something insanely dangerous, from almost sinking in an icefield to ramming a whaling ship thousands of miles from possible rescue. Watching the show, half the time I'm thinking: "Christ, this can't be happening!"
We're used to seeing this kind of exciting documentary material from morally questionable things like American wars. It feels amazing that someone has made a similar tv show, but from the viewpoint of aggressive ecological activism.