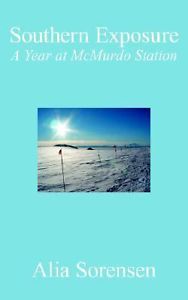 Non-fiction: Alia Sorensen: Southern Exposure (AuthorHouse, 2005)
Southern Exposure documents writer a year of Alia Sorensen's working life on Antarctica in the early 2000's. It's not an ambitious book, and perhaps that's its strength. Sorensen worked both a summer and a winter at McMurdo station in the kitchen.
The book's perspective is on describing the working culture and conditions of the people who make an Antarctic station run. I've always liked these blue collar accounts of life on Antarctica, and there are not too many of them around. Sorensen's lack of artifice means that you get a clear idea of how everything is.
At the end of the book, there's a pointless and overlong account of tourist activities in New Zealand and Australia. These can safely be skipped.