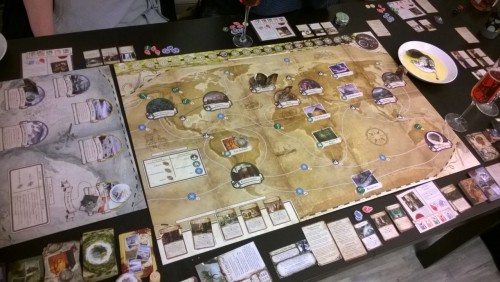 Board game: Eldritch Horror: Mountains of Madness (Fantasy Flight Games, 2014)
Eldritch Horror is a follow-up to the successful H.P. Lovecraft -themed board game, Arkham Horror. In Arkham Horror, the action is limited to a small New England town, while in Eldritch Horror, the entire globe acts as the stage. Mountains of Madness is an expansion in which Antarctica is brought into the spotlight.
As can be seen in the above photo from when we played it, Eldritch Horror is a massive game, with or without the expansion. Its focused on story, exploration and ambiance, and while its mechanisms are more elegant than those in Arkham Horror, this still isn't German board game design. The Byzantine sprawl is a part of the charm.
The expansion is based on the Lovecraft novella At the Mountains of Madness. A scientific expedition modeled after the explorers of Lovecraft's time reaches Antarctica and discovers traces of ancient civilization.
In the expansion, Antarctica is represented by an extra game board, and two new threats, Ithaqua and Rise of the Elder Things, make cold-based Lovecraft stuff into the focus of the game. Based on one test game, the expansion works very well, and the Antarctic content integrates neatly into the wider experience.
The test game ended with our investigators at the Antarctic Lake Camp, trying to free people from the terrifying mind control of the elder things.