I and some friends have a project of trying to watch all movies, tv episodes and other stuff with moving pictures related to roleplaying games ever made. We're pretty far along on this goal. I'll write here about old and new things we've found and watched.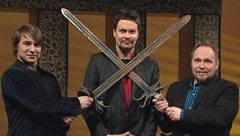 Aamusydämellä is a Finnish tv show in which guests are interviewed about topics such as depression in athletes or experiences with the prison system. In the 2008 episode Isä, poika ja roolipeli, the guests were a father and son who both larped.
Much of the episode is spent on pretty simple questions on what larp is. How characters work, who decides what happens and so on. In the end, they talk about having a shared hobby between father and son, and it's interesting to see. The idea that parents and children have something they can enjoy on an equal level is not a given, and here the father says that you have to be able to be seen as silly if you want to do it.
All in all, it's a pretty decent "slice of life" take on larp. More info here.