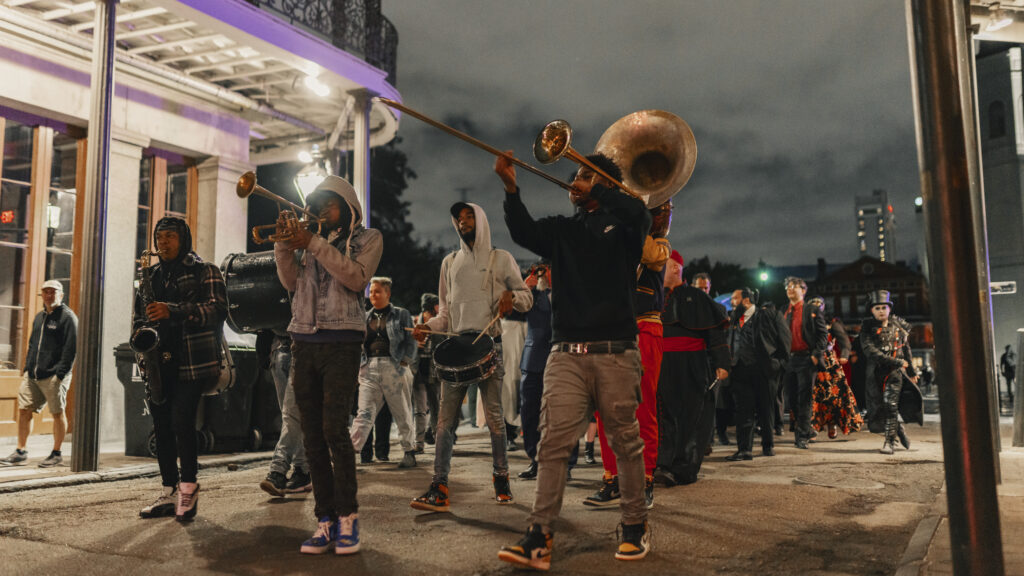 An urban larp about vampires who gather in New Orleans to celebrate the festival of transformation, Saturnalia.
Based on Vampire: The Masquerade.
Date: 12th of November, 2022
Participants: 200
Location: New Orleans, U.S.A.
Duration: One day
Concept
Among the Kindred, the tradition of Saturnalia goes back centuries, even milleniae. Vampires gather together form near and far in a festival where kings become beggars and beggars kings, even if only for one night. As traditional hierarchies are reversed, individual Kindred have an opportunity to try out new identities and roles. They may even find themselves transformed by the experience.
Saturnalia was a multiple location urban larp played in the French Quarter of New Orleans. It had a total of 28 individual locations and featured a full second line parade, complete with a brass band. The goal was to make the vampire festival of Saturnalia come alive in the streets of the city as comprehensively as possible.
Credits
Lead designers: Juhana Pettersson and Garett Kopczynski
Designers: Ken Pickering, Chris Eaton, Tyler Brown
Lead producer: Garett Kopczynski
Producers: Ken Pickering, Chris Eaton, Taylor Hansen
Producers (New Orleans): Aaron 'Duckie' Lirette, Aira Vehaskari, Sable Switch
Workshop design and calibration mechanics: Lizzie Stark
Programming (character creation tool): Matthew 'Deeg' DeGennaro
Documentation: Garett Kopczynski, Juhana Pettersson, Chris Angell, Elyse Haws
Character writers: Juhana Pettersson, Garett Kopczynski, Ken Pickering, Chris Eaton, Sereia McDaniel, and Rachel Wilkinson.
Sensitivity consultant: Sereia McDaniel
Photography: Kai Simon Fredriksen, Jesse Robert Giffords-Stuart, Bella Huygens
Production assistant: Taylor Hansen
The "really, really" mechanic was originally created by Bjarke Pedersen.
Saturnalia was created by Reverie Studios together with By Night Studios and Paradox Entertainment.
Documentation
Kai Simon Fredriksen's photoset from the larp.
Kai Simon Fredriksen's photoset from the Hunted experience, ancillary to the larp.
Kai Simon Fredriksen's photoset from the workshops.
Kai Simon Fredriksen's photoset from the meet and greet and burlesque organized for participants before the larp.
Jesse Stuart's photoset from the larp.
Media
18.11.2022 – Larped: Saturnalia: A New Orleans Innovative LARP
31.8.2022 – Shelf Stories: Saturnalia: The Awesome, Cooperative LARP Experience in New Orléans
23.7.2022 – World of Darkness: Making a character for Vampire: The Masquerade LARP – Saturnalia