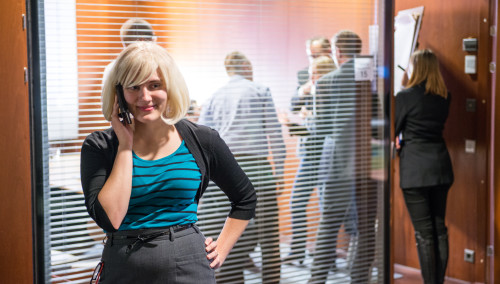 Täydellinen ihminen (the Perfect Human) is a short larp about the wonderful lives of the people in office stock photos.
Design: Juhana Pettersson & Jaakko Stenros
Photography: Tuomas Puikkonen
Date: 20.9.2015
Duration: Five hours (one hour workshop, three hours game, one hour debrief)
Participants: 10
Location: Helsinki
Synopsis
Täydellinen ihminen is a larp about an ideal normally seen in corporate stock photos: The smiling, happy office workers seen in bright, well-lit environments. The game comes at this subject from a position of yearning: What would it be like to be one of these perfect people? To this end, the participants spend three hours going to meetings and seeing clients as the employees of the consulting company Creative Solutions.
The photos are an integral part of the design: After the game, the participant literally enters the visual world of corporate perfection.
Articles
Jaakko Stenros wrote about the larp in his blog here.
I wrote about the game in my website here.
Documentation
The full set of photos by Tuomas Puikkonen can be found here.
Here's a selection: