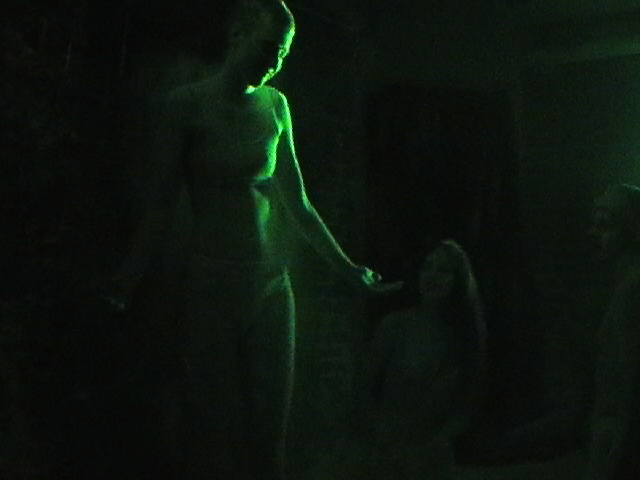 Luminescence is a larp by Juhana Pettersson and Mike Pohjola, created for the Week in Finland of Solmukohta 2004 and played in Helsinki, Finland.
Duration: 3 hours
Participants: 20
Produced by Mikko Pervilä
Voiceovers by Juhana Pettersson, Mike Pohjola & Samantha Rajasingham
Synopsis
Luminescence is a game about cancer patients in music therapy. They all all going to die and attempt to come to terms with this fact. The players are semi-naked in a roomful of flour, which has been defined as"normal" within the game.
Artist Statement
I visited Palais de Tokyo in Paris in early 2004 and saw an installation by a Chinese artist in which you were invited to walk barefoot in a large room where the floor was covered in flour. It felt incredible, and to this day I regret that I didn't make a note of who the artist was. Coming out of the installation, I called Mike immediately and told him we need to do a larp.
Another important theoretical point I wanted to make in the game concerned stories. I had written in that year's Solmukohta book, arguing that stories are irrelevant in larp. To further my point, I wanted to make a game where the central game experience had nothing to do with stories or narratives of any kind. I wanted to make a physical larp.
Thus, the flour, the main tool of the game. The flour acted as a contentless metaphor, to be used by the players to create their own meanings within the larger themes of the game. Thus, we had a player who's character suffered from prostrate cancer stuff his underpants full of flour.
The most important legacy of Luminescence is, I think, the normality rule, something we invented on the morning of the game. We realized exactly how useful the rule was only later.
Using the normality rule means defining elements within the game as normal. In this game, we didn't want the players to talk about the flour, but we did want them to play with it, so we said that to them, its as normal as a linoleum floor in a hospital. Since Luminescence, I've used the rule in almost every game I've done, usually to deal with problems related to definitions of in-game and off-game.
Documentation
Luminescence has been written about extensively both by me and by Mike Pohjola.
By Juhana Pettersson
– Battle Against Primitivism, my article in the 2004 Solmukohta book Beyond Role and Play, edited by Markus Montola & Jaakko Stenros (Ropecon ry, 2004) provided some of the theoretical framework for the game.
– The Kingdom of Flour, a description of the game I wrote for my rpg.net column No Good. In French.
– Roolipelimanifesti, my book about roleplaying (Like, 2005).
– The Age of Indulgence, my article in the 2008 Solmukohta book Playground Worlds, edited by Markus Montola & Jaakko Stenros (Ropecon ry, 2008).
– Nordic Larp, a collection of articles about Nordic Larp, has an article about the game.
By Mike Pohjola
– School of Flour, Developing methodology through eight experimental larps, in the 2005 Knutepunkt book Dissecting larp, edited by Petter Bockman & Ragnhild Hutchison (Knutepunkt, 2005).
Here's video documentation from the game:
The video is available as a DivX file here.
Stills from the video