I'm on a study project to improve my understanding of roleplaying games. To this end, I already have two reading projects, A Game Per Year and An Adventure Per Year. This is the third, with the goal of reading or playing 52 games made in the last few years. Originally I considered making this "A New RPG Per Week" and that's where the number 52 comes from, even though a weekly schedule is probably not within my abilities.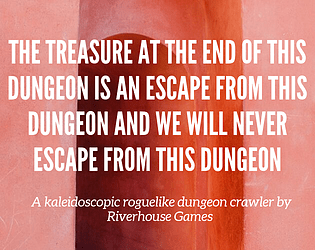 I've been told that there is a vibrant design community of small, experimental games on the indie platform itch.io. I decided to learn more about these games by reading a few I got from a bundle. The first is the magnificently titled The Treasure At The End Of This Dungeon Is An Escape From This Dungeon And We Will Never Escape From This Dungeon.
It's a deconstruction of the dungeon crawl genre. As the title implies, the classic dungeon crawl becomes an existential exercise in futility and yearning. Two important rules are:
We will never escape this dungeon.

We will always try to escape this dungeon.
There's a certain poetic ambiguity to all of the mechanics in the game: "There are five room of this dungeon and there are many more than five rooms in this dungeon."
Each room has an element that must be engaged with by the characters. It can change but the rooms themselves represent classic dungeon crawl archetypes such as the puzzle and the battle. The characters are also traditional: The Muscle, The Mage, The Thief, The Healer. Each has special rules that change how they engage with the elements in each room.
Some genres are tied to a particular medium. Superheroes bring to mind comic books and the western is connected to the movies. For roleplaying games, the signature genre is the dungeon crawl. It's conventions are pretty strange if you stop to think about them but we've grown so accustomed to D&D that we can work within the genre despite it's weirdness.
One thing that I really like in this game is that although it's a deconstruction, it also takes the dungeon crawl seriously as a framework for creative inquiry. It genuinely seeks to find meaning within this absurd context. It's this sense, it reminds me of Jason Morningstar's Skeletons which I recently wrote about here.