I'm on a study project to improve my understanding of roleplaying games. To this end, I already have two reading projects, A Game Per Year and An Adventure Per Year. This is the third, with the goal of reading or playing 52 games made in the last few years. Originally I considered making this "A New RPG Per Week" and that's where the number 52 comes from, even though a weekly schedule is probably not within my abilities.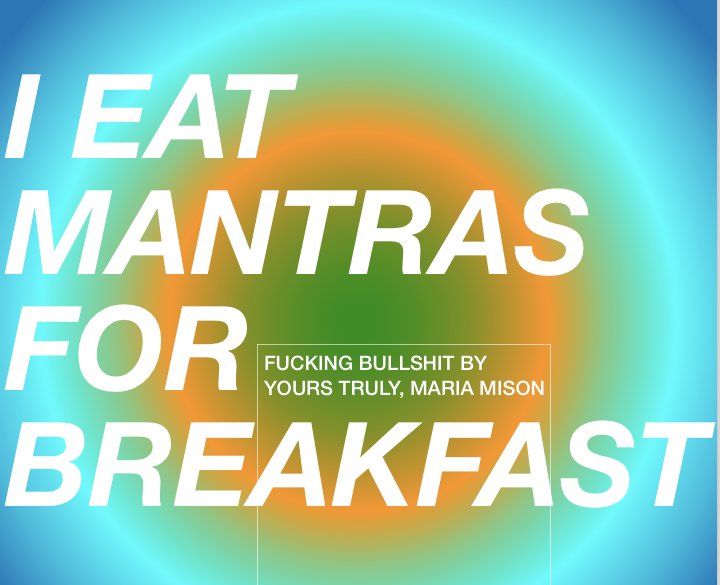 I Eat Mantras For Breakfast is a collection of lyric games, or poetry, or perhaps it's a single work or a statement of being. It's a reminder that often the most interesting stuff happens at the limits of categorization.
The text plays with the instructional language typical of lyric games but leaves behind the need for a coherent, playable game aesthetic. Instead, it says things like:
TAKE YOUR TONGUE

OUT

THROW YOUR MIND

OUT THE FUCKING

WINDOW

YELL KICK SCREAM

W YOUR ENTIRE

BODY BUT MAKE NO

FUCKING SOUND

define THROW,

define FLING
There's an electricity to the text and its presentation, eschewing the stately white page of much of poetry and leaving behind such things as grammar, spelling and coherence. That's what you get to do when you have a feel for language and expression as personal and subtle as is presented here.
It feels like the textual equivalent of the post-internet graphic style, clearly springing from the aesthetic environment of social media but without being limited by it. There are asides such as:
define LOL,

BITCH WHEN>??
In terms of game text this is the least legible of the lyric games I've read so far and also my personal favorite. It feels like it's pushing through the format through into a new realm of text that's meant to be understood experientially.