In my A Game Per Year project, my goal has been to read one roleplaying game corebook for every year they've been published. However, I soon started to feel that it was hard to decipher how the games were really meant to be played. For this reason, I decided to start a parallel project, An Adventure Per Year, to read one roleplaying adventure for each year they've been published.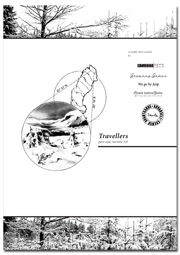 Travellers is a Jeepform scenario by Tobias Wrigstad. It premiered at Stockholms Spelkonvent in 1999. The version I read is an English translation published in 2006.
As a roleplayer, the turn of the millennium was a time where I was reassessing the form and tradition of roleplaying. I wanted more than D&D or Vampire, yet none of the published games seemed to offer it. Years later, this frustration took the form of my first book Roolipelimanifesti.
Although I wasn't properly aware of it at the time, many people in different roleplaying scenes were having similar thoughts. The Forge and its attendant design movement had its inception at the same time. That's also the cultural moment when Travellers was published. Reading it now, you can see the traces of rebellion in the text when it says game mechanics are irrelevant and you need to be in character 100% of the time. It's beating against an established culture of play, fighting to clear space for itself.
The scenario is an imploding series of dream scenes emerging in the final moments of a dying young woman called Ulrika. For much of the scenario, the players don't know this, playing as strangers sharing a ride in northern Sweden and getting sidetracked into a cabin by an accident.
The style is lurid, in your face, geared to elicit maximum emotional response. There's AIDS and incest, heavy themes battering the participants and drawing them into complicity.
Since the scenario itself plays so much on a metanarrative level, it's easy to see its creative strategies as products of its cultural moment. It brings everything it can to the fight to establish roleplaying as an artform that can provide genuine emotional experiences.