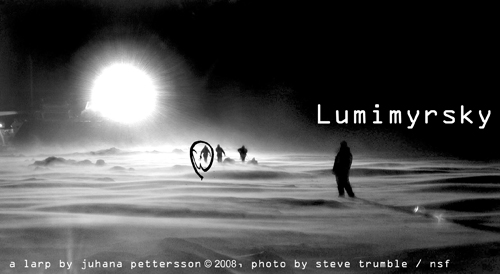 The roleplaying event Ropecon is on 8.-10.8.2008 in Espoo, Finland. I have a number of programs there.
Friday
20:00-22:00, the panel discussion Roolipelien dokumentaatio, in Sali 26
A Finnish-language discussion about the documentation of roleplaying games, led by Jaakko Stenros and featuring Johanna Koljonen, Juhana Pettersson and Jussi Ahlroth.
23:00-01:00, the presentation Roolipelaaja – Maailman (melkein) ainoa roolipelilehti, in Klondyke, by Juhana Pettersson
I talk about Roolipelaaja, the roleplaying magazine I edit.
Saturday
14:00-18:00, the larp Lumimyrsky (Blizzard) by Juhana Pettersson
Signing up for the game is at the larp info desk on Saturday between 10:00 and  14:00. There's space for ten players.
Description in Finnish:
Antarktis on maailman tyhjin manner. Pahimmillaan se on kuin vieras planeetta, yhtä vihamielinen elämälle. Istut tyhjässä tukikohdassa keskellä jäätikköä muiden selviytyjien kanssa ja ajattelet, että teidän täytyy olla yksin. Lumimyrsky ulvoo ulkona, mutta sisällä on täysin hiljaista, ja lähimmät ihmiset ovat yli tuhannen kilometrin päässä.