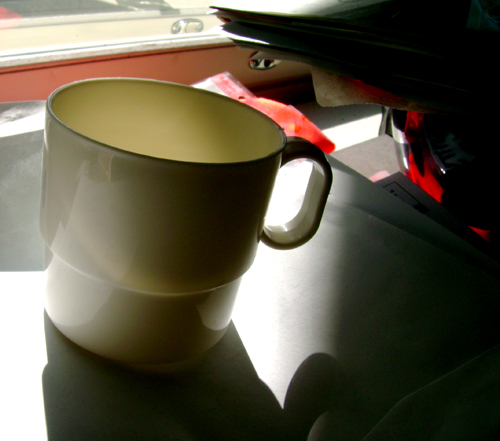 A larp by Juhana Pettersson.
Don't you just want to break things, sometimes?
Set in the familiar world of modern international life, Plastic Cup features the violent rupturing of family and friendship in a fight for nostalgia and the warm glow of childhood. It's a catharctic game where frustrations explode in ceramic splinters. It's a game where you are the agent of destruction.
Plastic Cup is beginner friendly.
Production
The Plastic Cup is produced by the FreeFall larp festival and a part of the program of the Solmukohta roleplaying conference. FreeFall has a number of great larps, so visit the website!
Time
The game will be held on Thursday 3.4.2008 at 14:00. The location is roughly half an hour away from the Central Railway Station in Helsinki. There will be a workshop of one hour before the game. The game itself will last two hours, ending around 17:00.
Location
The game will be played in a location in Helsinki. The specifics will be provided when you sign up. The game will be held outside in a semi-public space.
Basics
All participants should be prepared to be outside for a duration of three hours, so proper clothes are essential. A warm coat, something to wear on your head, mittens. How much you have to prepare depends on how cold it is.
Due to the nature and location of the game, good shoes are a definite bonus for any participant. Combat boots, hiking boots and the like are good, tennis shoes and high heels are bad.
You don't have to prepare for the game in any way: all of the materials will be provided on location.
The game will be documented both on video and by photo. Participating in the game means that you will appear on the documentation. The documentation may be published later. Individual players will not be identified by name in the event of future use of the documentation material.
Signing up
You can sign up to participate in The Plastic Cup either by going to the FreeFall offices at Köydenpunojankatu 8 E, Helsinki, and writing your name in the list, or by phone. If you want to sign up by phone, call one of the FreeFall organizers, +358 (0) 50 526 2213 (Santtu Määttänen) or +358 (0) 40 762 4217 (Juha-Pekka Natunen). The registration opens on Monday 31.3. 2008 at 11:00. You can't sign up for the game before this time.