One of my pet themes recently has been how ideas in tabletop roleplaying spread, or fail to reach anyone outside a small, limited scene. Some movements have been quite successful at reaching wider audiences. The American Story Games scene is one of these, and the Danish Fastaval scene another.
A third one is the OSR, or Old School Revolution scene. Based on going back to the ideas presented in the very first roleplaying games published by Gary Gygax and Dave Arneson, OSR games have benefited from a lively stream of published material. You can get into it by reading book and booklets.
Finland is home to the OSR powerhouse Lamentations of the Flame Princess, but it's not the only game in town. So to speak.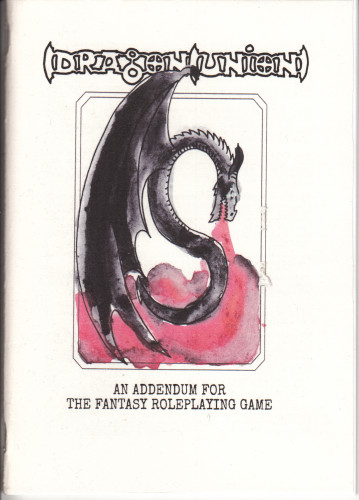 Dragon Union is the English translation of the Finnish publication Lohikäärmeliitto. It, and a couple of other Finnish-made English-language OSR things are available from D-oom Products.
It's a set of rules to be used on top of the classic OSR base games derived from the original D&D. It keeps the traditional set-up of the GM, the fantasy milieu and the combat rules, but adds what seems like Story Games DNA by changing the function of the character classes. These determine the story and the events to a greater degree, and create a system for managing the flow of combat. A class such as "Fighter" has not only abilities, but a function in terms of roleplaying group dynamics.
Some of the ideas are quite nifty, especially for games that use traditional concepts such as character classes and experience levels. As a bonus, the booklet has a fun fanzine feel, something it shares with the other D-oom Products publications.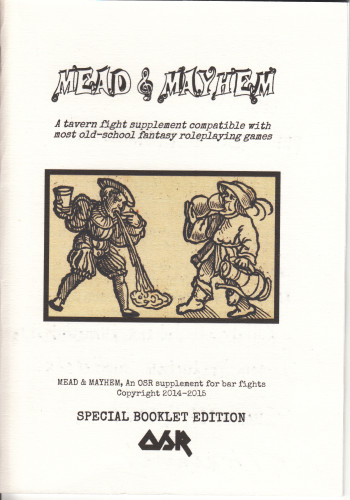 The particular copy of Mead & Mayhen I have is a test print made by the publisher, something the collector in me greatly approves. It's basically a big table for creating an eventful bar fight.
One of the things I like in OSR is the reckless energy you get when everything is lethal and bizarre story complications can arise through random chance. Mead & Mayhem delivers on that theme.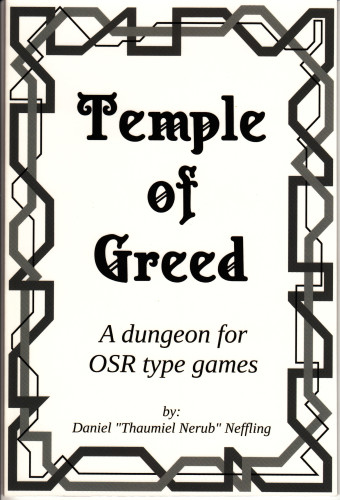 Temple of Greed is a dungeon adventure built entirely around traps, puzzles and the concept of greed. A relevant subject in the times we live in. The adventure is supplemented by a variant on the cleric character class that looks like what would happen if Ayn Rand started designing roleplaying games. I mean that in a nice way.
I have never played many OSR games myself, but publishing stuff is key to making people aware of what you're doing and why. That's why I appreciate the fringe these booklets represent.