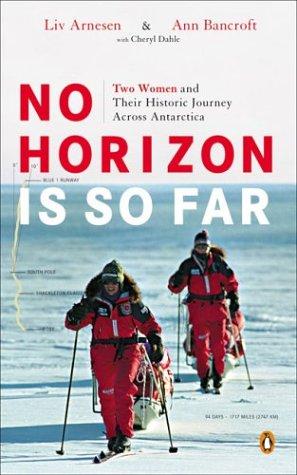 Non-fiction: Liv Arnesen, Ann Bancroft & Cheryl Dahle: No Horizon Is So Far (Penguin, 2004)
No Horizon Is So Far is the account of the Norwegian Liv Arnesen and American Ann Bancroft's expedition to cross the Antarctic continent unsupported. Books about modern Antarctic expeditions like this one are more like sports narratives than exploration, stories about human endurance and willpower. The story is the usual one: first it's about getting the money, then about walking in snow and ice.
The distinguishing feature of this particular book is the pedagogical program attached to the expedition and the fact that both explorers are women. Its also a part of the mini-genre of lesbian Antarctic books. (I have yet to see a single gay Antarctic book.)
Perhaps the most memorable parts of the book are Arnesen and Bancroft's stories of some of the truly idiotic reactions they encountered as women undertaking an expedition in a traditionally male environment.