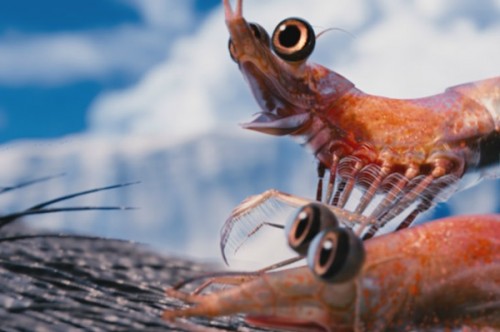 Film: George Miller: Happy Feet 2 (Australia, 2011)
The two biggest subsections of Antarctic books, movies and other media are the men of the Heroic Age such as Scott and Amundsen and penguins.
The first Happy Feet movie is probably the best example of penguin-related Antarctic children's entertainemnt, at least in terms of quality. The story was sweet, but the Antarctic detail was done well.
The sequel, Happy Feet 2, suffers being pointless. The penguins are now parents themselves, and a lot of the drama revolves around worrying about the children. The script suffers from aimlessness, and while the movie features some gorgeous animated nature shots, you never really start to care about anyone.
The only exception to this are the krill, pictured above. A krill named Will attempts to evolve into a carnivore with his friend Bill. It's funny.