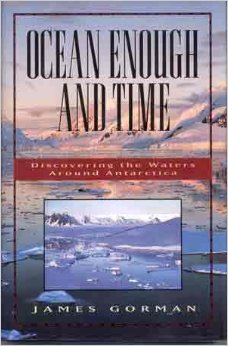 Non-fiction: James Gorman: Ocean Enough and Time (HarperCollins Publishers, 1995)
The pompously titled Ocean Enough and Time is actually an ok Antarctic book, another product of the U.S. National Science Foundation's decision to take artists and writers to Antarctica. James Gorman is an editor and a journalist, but his writing here is more in the style of an essay. He considers the essence of the Southern Ocean and detours onto McMurdo and other locations on the ice.
Personally, I like Antarctic books asking the question "what does this mean?" Gorman's book is short and breezy, and doesn't really compete with the titans of Antarctic essentialism such as Stephen J. Pyne's The Ice. On the other hand, the culture of the people who work in Antarctica is neatly on display, and its nice to have someone write about the water in a field where most write about the ice.