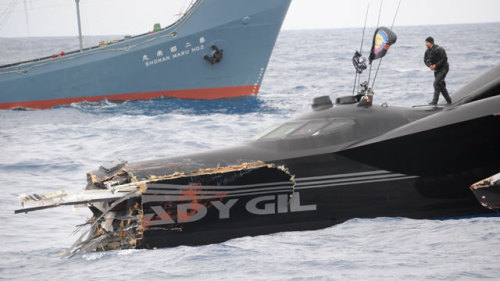 TV series: Whale Wars (season 3): U.S.A. 2010
Whale Wars is an American documentary tv series about the conservationist group Sea Shepards. Each season follows one Antarctic summer in which the Sea Shepards attempt to disrupt the operations of Japanese whalers in the Southern Ocean.
Season 3 is quite amazing in the sheer amount of danger and derring do. This time, the Sea Shepards have three ships, the familiar Steve Irwin, and the new Bob Barker and Ady Gil. The Ady Gil is a speedboat captained by a New Zealander called Pete Bethune, who emerges as the star of the season.
Bethune ends up taking many of the risks that make following this season of the series so hair-raising. You guess that probably everyone survived from the fact that there's six seasons of this series, but it doesn't make it less exciting.