I and some friends have a project of trying to watch all movies, tv episodes and other stuff with moving pictures related to roleplaying games ever made. We're pretty far along on this goal. I'll write here about old and new things we've found and watched.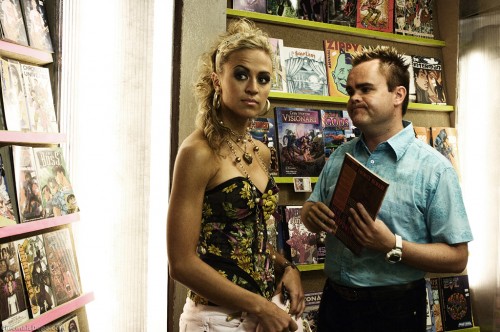 (Astrópía)
Larp is a very specific subculture, so when a vacuous member of straight society is dropped into it, hilarity ensues. At least, that's the theory behind the U.S. comedy Role Models and the Icelandic Astrópía.
Hildur is a blonde society girl who's boyfriend ends up in jail. She's left with no money and no prospects. By a coincidence, she lands a job in a gaming store called Astrópía. Through the job, she meets roleplayers and is drawn into trying roleplaying games.
Gunnar B. Gudmundsson's Astrópía is one of the best roleplaying comedies out there. The fish-out-of-water story allows it to riff on the various curiosities of geek culture, but the love for the scene is self-evident. Hildur enjoys gaming, and uses it as a vehicle for personal liberation.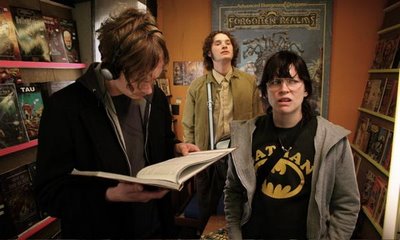 (Astrópía)
Little details in the movie, like the choice of the covers of old Forgotten Realms modules as posters you can see in the background, are geek gold. The best scene in the movie has one of the roleplayers in the gaming store with a small child. He explains that it's necessary to see all the classics of horror cinema while young, "before you get jaded". As someone who saw many of them quite young, I couldn't agree more.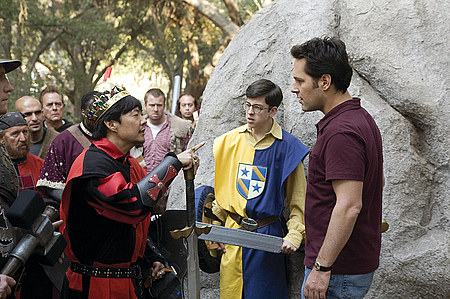 (Role Models)
David Wain's Role Models is a movie about two thirtysomething dudes who have problems growing up. After they get into trouble with the law, they choose community service and and up in a big brother program, mentoring troubled teens. One of the kids, Augie, is a larper, and Danny, his "big brother", has to larp too to fulfil his obligations.
Larp is portrayed as a geeky activity that nevertheless offers a safe environment for self-expression for kids who have problems fitting in. Danny's story is more about learning to take responsibility by taking on the duties of a father rather than becoming interested in larp per se, but the message still is "be a good dad and larp with your kid".