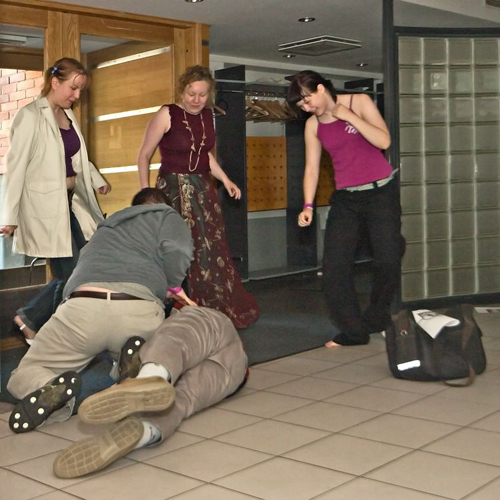 Photo by Olli Rinne
Ala-aste (Elementary School) is a larp by Juhana Pettersson. It was published in the book Roolipelimanifesti (Like, 2005) and first played at Ropecon, 2005.
Duration: 4 hours
Players: 20
Synopsis
The larp consists of a school day, and all the characters are on the fifth grade. It's designed for adult players, to revisit old memories and explore bullying and schoolyard social dynamics. The game can be played in a short or long version, although so far only the short version has been produced.
Artist Statement
Ala-aste is the larp I designed as an example of what I was talking about in my book Roolipelimanifesti. I wanted to make a simple, universally appealing game based on real-world themes. I wanted to make a game that was clearly about something serious (bullying), but also fun to play. I discovered that it takes almost no effort at all from people to regress into the mindset of a 12-year old.
In structure, the game consists of the kids being bored in class for 45 minutes at a time, and then exploding into action during recess for fifteen minutes before returning to class.
The characters were short, and some were explicitly written as victims of bullying, others as bullies. I made an effort to cast players who seemed socially capable as the victims to avoid any unnecessary trauma.
When I was in elementary school, I was both a victim and a bully. Based on my own experiences, I made most of the characters belong in both groups.
Before the game, I ran a bullying workshop to make sure everybody's comfortable with what we're doing in the game and talk about the memories different people had about bullying. The workshop was action-oriented, with practical excercises.
After I ran the game at Ropecon, the guy I had cast as the victim came to talk to me about how he had himself been a bully in school, and had never really thought about it before.
Documentation
Photos by Olli Rinne
Here are some of the things the players made during the game: