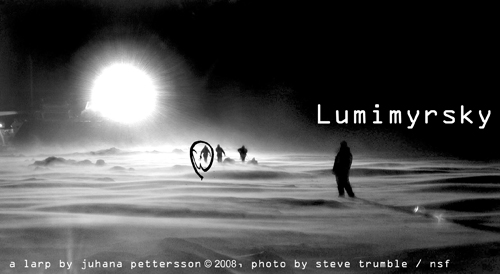 Lumimyrsky (Snowstorm) is a larp by Juhana Pettersson.
Duration: 2 hours
Participants: 10
Synopsis
A larp set in the Antarctic, about a disparate group of people coming together in an abandoned base during a snowstorm. Once they settle in, they start to suspect there might be an eleventh person there.
Artist Statement
Inspired by the compact, text-based roleplaying convention games of J. Tuomas Harviainen and others, I wanted to make a portable, easily organized, replayable larp with no special effects, no gimmicks, based only on written material. I wanted to make something others could easily replicate, and it was a creative challenge, because so many of my games have relied heavily on props and set design.
The game is inspired by the story of the Antarctic explorer Ernest Shackleton, who's catastrophic expedition of 1914-1916 is one of the great legends of exploration. At the end, Shackleton and two others were crossing the unmapped peaks of the interior of South Georgia island. They had travelled 1300 in a rowing boat to reach a Norwegian whaling station and get help for their comrades stranded on another island. Unfortunately, they came aground on the wrong end of the island.
Half dead from wear and exhaustion, they crossed the island's rocky interior in one go. Later, Shackleton said that every time he counted, he came up with himself and three others, but when they stopped to rest, it was just him and his two men.
The fourth man he refers to was supposed to be Jesus, but for me, the story is much more ambivalent. Its almost a horror story, because the Antarctic environment is so extreme, that its preposterous that there should be another man. Its like running into someone on the Moon.
This was the emotional core of the game. The character, from three disparate expeditions, come together in a snowstorm at an abandoned base. After they settle there, they start to feel there's somebody else, although this someone never manifests.
This was done by giving the players time-triggered materials they could read, about their past, the base and how it feels to be there.
Documentation
The game has been played once, at Ropecon, Saturday 9th of August 2008.
Photos by Aarni Korpela
Photos by Niklas Vainio