In my A Game Per Year project, my goal has been to read one roleplaying game corebook for every year they've been published. However, I soon started to feel that it was hard to decipher how the games were really meant to be played. For this reason, I decided to start a parallel project, An Adventure Per Year, to read one roleplaying adventure for each year they've been published.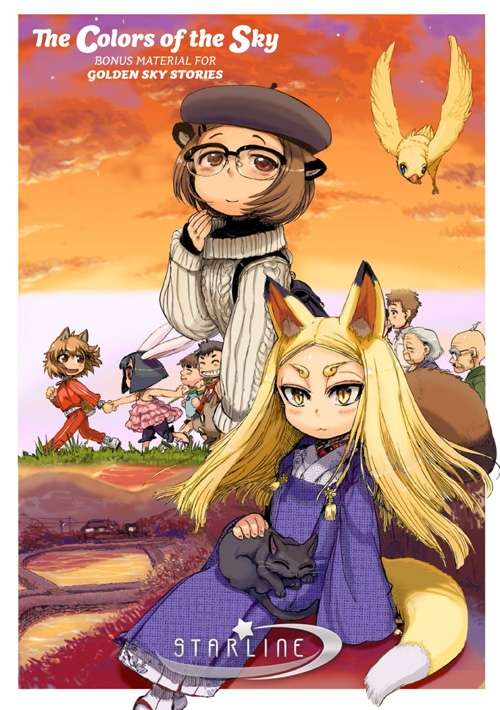 The Colors of the Sky is a collection of extra material for the Japanese roleplaying game Golden Sky Stories, including two adventures. Golden Sky Stories is an excellent game where the players play Henge, animal-like spirits in a small Japanese town. They help children and resolve small problems, dealing with emotions and misunderstandings of everyday life.
Golden Sky Stories is cute, heartwarming and somehow manages to avoid the cloying stench of death that tends to accompany anything that elicits the adjective 'wholesome'.
The Colors of the Sky is connected to the Kickstarter campaign of the English-language translation of the game. Much of what it contains originated as stretch goals and created for the translated edition, not for the original Japanese one.
The two adventures in the book deal with the U.S. influencing the game's small Japanese town. In the first, an American boy moves to the town with his family and has trouble adjusting. The Henge can help him deal with bullies and find friends. In the second, a boy from the town is about to move to the U.S. with his family and tries to resist by running away from home. The Henge can help him come to terms with what will happen.
The shift in perspective between the core game and the supplement is most obvious in a small chapter dedicated to Japanese sweets. It's obviously written from a U.S. perspective, explaining Japanese sweets to Westerners. Some of it is sourced to Weird Asia News.
I was left thinking about the cultural translations needed to make non-U.S. games legible to U.S. audiences. The question is complicated because you want the game to be accessible for it's new audience while at the same time retaining its original texture.
Roleplaying games are difficult in this sense because it's not enough for the reader to understand. They must also be able to play. That requires a higher level of comfort with the material than mere passive consumption.