Olen toimitussihteerinä Kulttuurivihkot-lehdessä. Uusin numero, 2/2010, on ilmestynyt. Teemana on 2000-luku.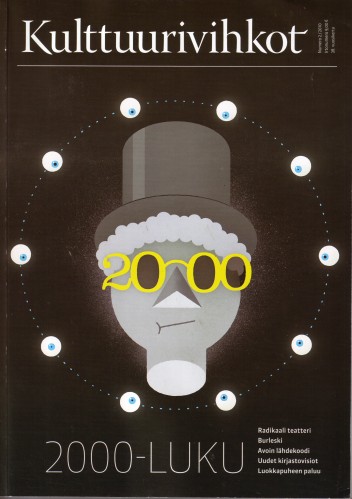 Kirjoitin tähän numeroon seuraavat jutut:
Katso tanssijan kehoa – Jutun aiheena Nadine Fuchsin ja Marco Delgadon tanssiteos Manteau long en laine marine porte sun un pull a encolure detendue avec un pantalon peau de peche et des chaussures pointues en nubuck rouge.
Isän rakkaus puntarissa – Kirjoitan pelistä Heavy Rain ja siitä, kuinka tuhansien pienten valintojen sarja muodostaa voimakkaan mukanaelämisen kokemuksen.
Nuoren roolipelaajan muotokuva – Arvostelu Merja Leppälahden kirjasta Roolipelaaminen – Eläytymistä ja fantasiaharrastusverkostoja. Luettavissa myös Kulttuurivihkojen sivuilta.
Lisäksi The Best of -kokooma-artikkelissa on esillä minunkin mielipiteeni 200-luvun parhaimmistosta: Avi Mograbin Avenge But One of My Two Eyes on paras elokuva, Michel Houellebecqin Oikeus nautintoon paras romaani ja Laibachin Volk paras levy.
(I work as an editor at the magazine Kulttuurivihkot. This post is about the new issue of the magazine, with a link to a Finnish-language article I wrote.)