Today, we played the third of this summer's seven Baltic Warriors eco zombie larps in Sopot, Poland. Finding a good venue for the serious political discussion and the even more serious zombie action proved to be difficult, but we found a wonderful host in a place called Klub Atelier, a venue in a beach theatre.
Since the weather was good, we held the game itself on the beach. This proved to be a very good choice: The presence of the Baltic Sea was palpable every moment of the game, a very important feature considering the themes and aims of Baltic Warriors in general. It's easy to ignore the problems of the Baltic Sea when it's out of sight and out of mind, but it's something different when it's right there.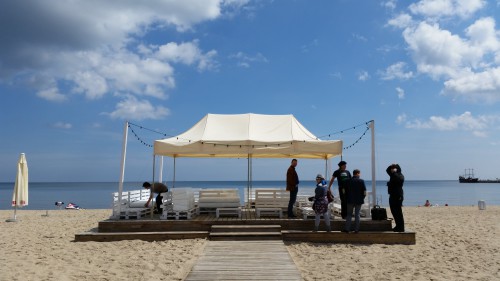 Doing a larp on a beach made me ask a very obvious question:
Why are beach larps so rare? Why don't we larp on beaches all the time? Why can't we have fun in the sun?
This prompted me to write this manifesto in favor of beach larp, a phenomenon I foresee will take the larp world by storm in the years 2015, 2016 and 2017 before it becomes mainstream and attains global success and recognition as the primary beach activity of our species by the end of the decade.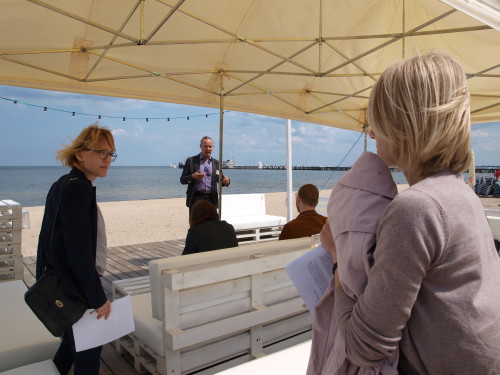 Beach larp is:
1 – On a beach.
2 – Features an intimate thematic link to the water.
3 – Goes beyond the mere superficialities of fun, and becomes a profound participatory experience combining serious questions about our role in the world with being on a  beach.
4 – For players ready to take the experience seriously and dedicate themselves to fulfilling it. Or have been forced to participate by their employers. One of the two.
5 – Conflates surface and content by accepting the fact that larp is public. You don't go to the beach to not be seen, and the same goes for beach larp. The larp experience becomes complete in the confused Tweet of a stranger. Or a spot done by local television.
6 – For romance. Our beach larp ended with a woman proposing to her pregnant lover.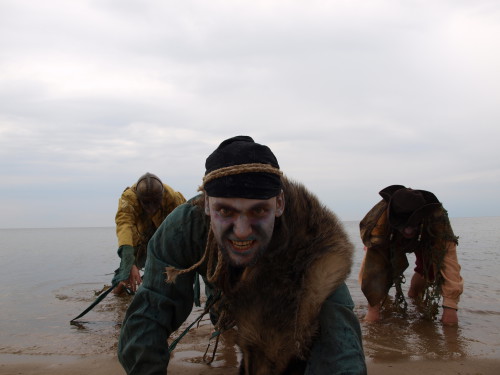 7 – For tragedy. The lover said no.
8 – Engaging with the public. Beach larp is not insulated. Beach larp takes interventions by outsiders in stride. In our case, in the form of a zombie attack on schoolchildren.
9 – For emergence and coincidence. Anything can happen in a beach larp. The larp incorporates coincidence. Whether military helicopters or a sailing ship, everything becomes part of beach larp.
10 – For meeting larpers and non-larpers, the young and the old, friends and strangers. Everyone is one on the beach.
Join the beach larp revolution now!