Olen tänään lentämässä Kölniin ottamaan osaa Gamescom-pelimessuille. Käymme tekemässä Tilt-tv-ohjelmaa varten haastatteluja erilaisista pelintekijöistä.
Videopelikokemus rajoittuu usein ihmisen ja ruudun väliseksi vuorovaikutukseksi. Vaikka peli olisi sosiaalinen, toimii välittäjänä tietokone tai konsoli. Pelaaminen ei vaadi jalkautumista sohvaa kauemmaksi, ja maailman rajoina ovat olohuoneeni rajat. Pelien ihmeet ovat virtuaalisia, kuvitteellisia.
Talouskysymykset ja ilmiöiden rakentaminen ovat pelikeskusteluissa keskeisessä roolissa. Suomalaisista peleistä kuten Angry Birds tai Clash of Clans kirjoitetaan usein juuri taloustarinoita, ja isot pelit kuten Call of Dutyt tai Assassin's Creedit pyrkivät olemaan maailmanlaajuisia mediajättiläisiä.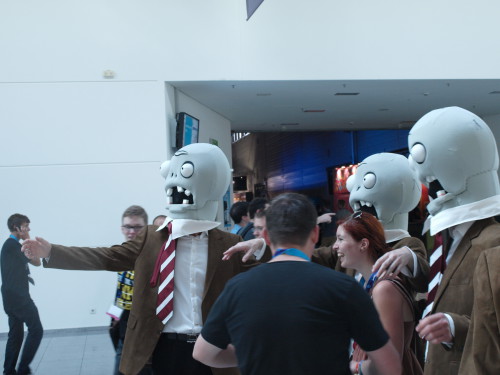 Tämä monumentalismi ei kuitenkaan yleensä ole osa varsinaista pelikokemusta. Jos pelaan Angry Birdsiä metrossa, on vaikea tuntea elimellistä yhteyttä siihen kuinka Suomen peliala pelastaa pienen maamme talouden. Kotona Assassin's Creed on vain Assassin's Creed, ei valtava media-ameeba, josta pulpahtelee ties mitä spin-offeja tasaisin väliajoin.
Kaikki tämä kuitenkin muuttuu, kun menee Gamescom-pelimessuille. Olen käynyt niillä jo monena vuonna työn takia, ja joka kerta kokemusta on voinut luonnehtia samoin. Kun messuilta lähtee, tuntuu kuin poistuisi armeijan ammuntaradalta, jossa testataan raskasta tykistöä.
Koelnmesse-messuhalli on suunnilleen suomalaisen pikkukaupungin kokoinen valtava kompleksi. Jos haluaa kävellä Gamescom-messut päästä päähän, täytyy varata 20-30 minuuttia aikaa, ihmismäärästä riippuen. Messuhallit ovat täynnä omakotitalon kokoisia mainospömpeleitä, jotka hehkuttavat milloin mitäkin suurellista julkaisua.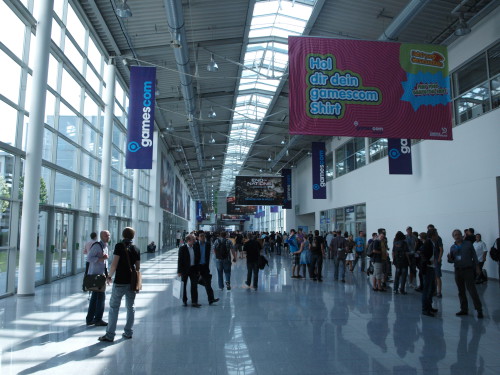 Kaikki tämä kuitenkin kalpenee Gamescomin perussoundin äärellä. Se on tasainen, kaikkialle tunkeva bassojylinä. Jokaisessa pelissä on jyrmeä basso, ja kaikki näytteilleasettajat haluavat että heidän bassonsa kuuluu parhaiten. Kun sisällä on ollut pari tuntia, tuntuu kuin joku olisi tasaisen rauhallisesti puristellut aivoja kunnes ne eivät enää kykene muodostamaan mitään koherentteja mielikuvia.
Gamescomin perusolemus on brutaali. Yksinkertainen viesti välitetään totalitaarisella enemmän-on-enemmän metodilla: Mitä tahansa muuta pelit ovatkin, niin ainakin ne ovat isoja.