Last week, I wrote about the differences between Vampire: the Masquerade's "game of personal horror" and the game I run, Verikartta, in which the horror has a more communal bent. The core of the matter is that for the vampires in the game, this is the only community they will ever have, so like it or not, they have to live in it.
Here are some of the ways that I used to create a nasty society:
Other Victims
The worst off are never the player characters. Indeed, people can be quite nice to the player characters, and lift them up while others are pushed down. This way, the players don't have to experience the situation as an "us vs. the elite" situation, but instead get a broader view. They may even feel the seductive pull of joining the elite.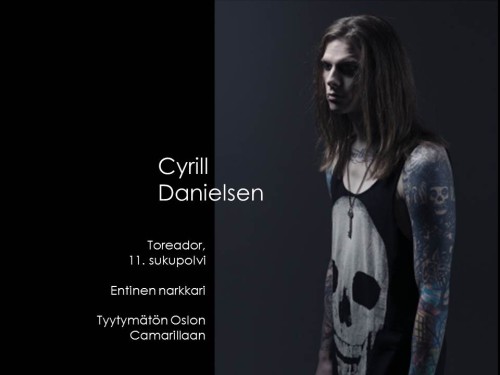 Complicated Schemes
Vampire schemes are complicated and follow their own logic. Obvious plots can't be done because others will see through them.
For example, revenge can never target the person who actually slighted you. Instead, you must attack someone completely different, for example a protege or even someone completely unconnected who you then direct to have their own revenge against your initial opponent.
If you want to act against someone, the first step can be to go into their debt. When you owe something to them, you get closer and can then act in new ways.
Often I've found it useful to have supporting characters explain the schemes if they get too weird. "Obviously, this invitation cannot be a trap, because that would be obvious. Unless it's a double-bluff, and is a trap after all…"
Counter-intuitive tactics like these make vampire plans seem baroque enough to give the feeling that people engage in them for their own sake. In-game, many of the people who do this are themselves cheerfully confused about what's happening. The value here is aesthetic.
Violence is Embarrassing
Physical violence is a sign of weakness. It only makes sense if the victim is significantly weaker than the perpetrator. As a move in the games vampires play, physical violence is the choice of the unimaginative.
As a corollary, almost all vampires are cowards. If the situation seems to imply physical violence, they will simply not be there.
Cruelty is Fun
I read a very good book about comedy in 18th century Britain that has shaped the way I built vampire society to a great extent. Called Cruelty and Laughter, by Simon Dickie, it's a masterclass in asshole amusements. The basic unit of comedy is cruelty, and here are some of the things that folks in 18th centuy Britain felt were simply hilarious: Beating cripples. Rape trials. Stealing from the poor.
With this in mind, in vampire society those of similar power and influence play games with each other, but with their inferiors, they simply fuck with them for fun.
What could be more funny than humiliating a Malkavian in front of all her peers or making a Nosferatu think he might have a chance with a Toreador ingenue? The key here is that these vampires don't do these things to benefit from it, but simply for fun. Always attack the weak.
Player characters can be horrified at all this, but they also have to come up with strategies to live in this environment. In Verikartta, I had one or two older vampires who found the behavior of their peers barbaric, but this display of morality also made them outsiders in a small community.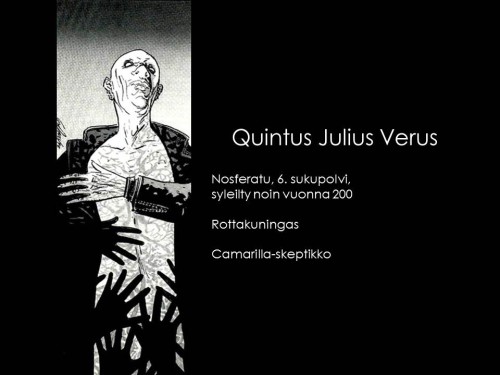 Heightened Class Divisions
Vampire: the Masquerade, like many roleplaying games, is designed from the perspective of game balance. Ideally, playing any of its character types will result in equally interesting roleplaying game experiences.
I deviated from this by heightening the class divisions in vampire society. The Ventrue are the undisputed masters of this world. Even the scummiest Ventrue is still a Ventrue, and therefore part of an inside club.
The next tier is the Toreador, Gangrel and Brujah, vampire clans with their own societies and agendas, forming the "standard" level of being a vampire. The Brujah are the "loyal opposition", who in reality keep the system going. Traditionally, every Ventrue prince has a secret Brujah lover. Below them are the two broken clans, Nosferatu and Malkavian, as well as the Tremere.
The Nosferatu are excluded because they're ugly. For them, living as a vampire is difficult, they have to live in sewers and derelict buildings, and unless they travel with their peers, a Brujah can decide to beat one up just for fun.
The Malkavians are rare, feared and distrusted because they're mad. A good way for a new prince to seem tough is to start a pogrom against the Malkavians.
The Tremere are powerful in a physical sense, but weak politically. They're hard to victimize and don't have to suffer from the humiliations the Nosferatu and the Malkavians live with, but have still been shut out of the political elites. They're considered upstarts, and somewhat vulgar.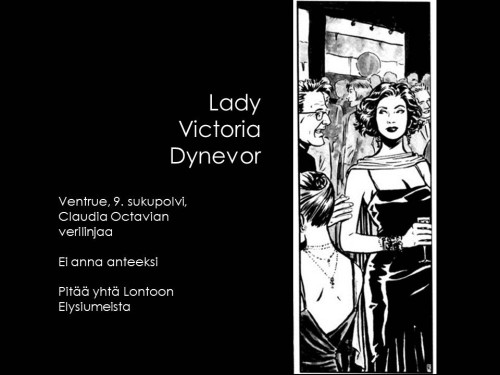 Attack Your Fans
If someone looks up to you, that person can be hurt. What could be funnier?
My favorite trick in this vein came from Marcel Proust's book series In Search of Lost Time. There's a lot of upper class cruelty in those novels, and Proust is very good at explaining the mechanics of how it works.
In this scene, the two important characters are both Ventrue. Lady Victoria Dynevor runs the most established Elysium in the city. Violetta Vidal is a much younger vampire who essentially wants to be Lady Victoria one day.
Lady Victoria runs a salon every Wednesday, "just for a few select friends so we talk talk freely without the bother of a big party". Violetta has copied this and started her own salon, where she invites younger vampires she thinks are interesting. Violetta also invites Lady Victoria, but it's assumed she won't come. She has to be invited because to do otherwise would be an insult.
You might think that it would be a boon for Violetta if Lady Victoria indeed would show up, and conventionally this would be so. If Lady Victoria decides to come to Violetta's salon, she can expect for this to be seen as a magnanimous act.
However, and this was why this is a great asshole move, when she shows up, she also destroys Violetta's salon. Because of the differences in status, when Lady Victoria shows up, she will be the only focus of attention for as long as she's present. She will suck the air out of the room and force everyone to cater to her, and the best part is that she doesn't really have to do anything to make this happen. It's an automatic function of the way status works in this kind of social environment.
Then she leaves, and Violetta's other guests leave soon afterwards. Next time Violetta holds her salon, the only reason anyone is going to be there is in the hopes that Lady Victoria might appear. When she doesn't, they'll quickly leave. Violetta's hope of having pleasant conversations in good company are dashed until she acquires enough social capital to make moves of her own.
Let Age Show
Older vampires have lived in their little bubble for a very long time. They all know each other. Everyone has dated everyone, everyone has fucked everyone.
When new people show up, they're a source of intense interest. Older vampires flock to younger vampires because they're new and interesting.
This shows most of all in romantic plots. For an older vampire, a romance with a younger vampire is all about using that person for entertainment until there's nothing left. Then the younger vampire is discarded. For the younger vampire, there's still a possibility of getting something out of this, because while it lasts, they can try to play the game too. The more fucked up and weird the relationship is, the longer the old vampire maintains interest.
Here it's best to have the older vampires approach these romantic games not from a position of strength, but from a position of weakness. For them, there are toadies everywhere, and that's boring. Since their supernatural power is absolute, they can comfortably be vulnerable in a romantic context.
This way, an older vampire doesn't seduce someone. He maneuvers things so that a younger vampire seduces him.
Normalize Corruption
It vampire society, corruption is so normal it doesn't really make sense to call it corruption. Everyone with a Camarilla office such as prince or primogen uses it for personal gain all the time. Mixing business and personal is also normal, and abuses of power can be done for the most trivial reasons, such as amusement.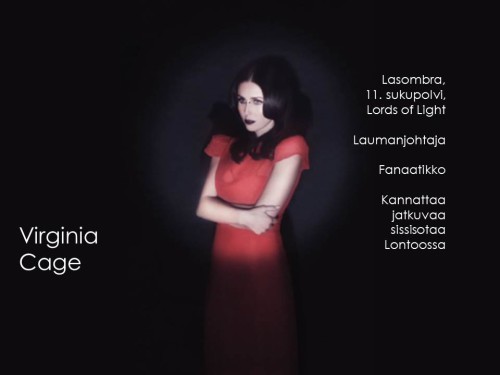 Horror
In a game like Verikartta, the horror comes from the reality of living in this kind of society. It's a subtle horror, and the characters can be very successful. The questions are, do they go with the flow and become upper class predators themselves, or do they try to hold on to some kind of decency in a society that doesn't really put much value on it?
The thing that makes this really work is to have 90% of the inhabitants of the community essentially accept the system. Both the downtrodden and the powerful characters appearing in the game are trying to live within the limits. The last 10% consists of weak vampires who oppose the system and get crushed, and powerful vampires who criticize the system and are doomed to a life of loneliness.