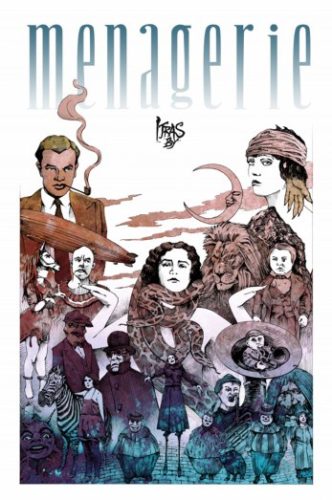 The Menagerie is a supplement for the Norwegian roleplaying game Itras by, created by Ole Peder Giæver and Martin Bull Gudmundsen. However, if you're familiar with roleplaying game supplements, this is definitely something else. As befits the surreal nature of Itras by, the Menagerie calls into question the very meaning of expanding on a published roleplaying game.
I have a lot of love for Itras by. A highly literate yet light roleplaying game set in the dreamlike city its named after, the original core book played with mood and prose, guidance and suggestions much more than banal game mechanics.
In 2009, I acted as the publisher for the Finnish translation of the game, under the title Itran kaupunki. A key motivation for me to have the game translated was so I could read it myself. It hadn't appeared in English yet and I didn't read Norwegian. It proved well worth the effort!
The Menagerie is a feast of contributions from a large variety of different designers, writers and illustrators, all coming together to offer their own take on Itras by. In addition to being material you can use to run games, it's also a masterclass in game design, peeling back the layers of decision-making that go into making any particular choice.
Perhaps the clearest example of this is Jason Morningstar's article Itras by Without Itras by. In it, he goes through the deck of cards the game uses as a tool for inspiration and resolution of events. He demonstrates how it can be used in other contexts and what kind of effects different modifications create.
It's also a wonderfully heterogenous book. Roleplaying communities have an unfortunate tendency to devolve into depressing little cliques who all hate each other, but the Menagerie boasts contributions from a highly disparate group of people, both geographically and in terms of design style. There are Norwegians and Poles, Americans and New Zealanders, Storygames alumni and OSR aficionados.
The book even includes complete games based on Itras by. An example is Grimasques by Banana Chan, a freeform game demonstrating that good design and focus on a single element of the Itras by world can produce something very clearly defined even in this surreal environment.
For me, two of the most affecting chapters in the book came at the very end. Martin Bull Gudmundsen has a beautiful personal essay reflecting on his own background, Asperger's syndrome and the particular nature of surreal game design. He also wrote a short fictional text together with Itras by co-designer Ole Peder Giæver as an allegory about making a game like this, a suitable ending to a book full of strange wonders.