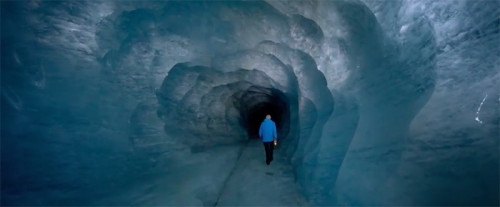 Documentary: Luc Jacquet: Ice and the Sky (France, 2015)
Luc Jacquet is the director of the movie March of the Penguins, so this is not his first time with an Antarctic subject. Ice and the Sky is a documentary about the career of the French glaciologist Claude Lorius and also an impassioned plea to do something about global warming.
The traditional image of Antarctica is as an eternal realm of ice and cold. Climate developments in recent decades have challenged that idea, and increasingly cast Antarctica more as a melting ice cube. Lorius has been at the center of this change in perception, and you can see that for him, global warming is not abstract at all. In Antarctica, it's a concrete reality.
The movie starts in 1957 with the beginning of Lorius' career in Antarctica, and it's wonderful to see all the old footage from various French and international expeditions. Other classic Antarctic locations are the South Pole and the Russian Vostok base.
Although Ice and the Sky is definitely a "great man" movie, it's wealth of footage and the scope of its subject make it a first-class Antarctic film. Lorius' career spans global warming, atmospheric nuclear testing and the insignificance of humanity's time on Earth, and it's easy to be swept away with the wonder and the terror.