I and some friends have a project of trying to watch all movies, tv episodes and other stuff with moving pictures related to roleplaying games ever made. We're pretty far along on this goal. I'll write here about old and new things we've found and watched.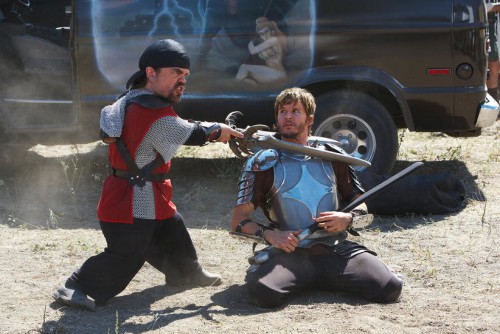 (Knights of Badassdom)
Movies about groups of roleplayers or larpers tend to follow easily distinguishable patterns. Knights of Badassdom is one of the biggest movies about larpers so far, but in many respects it follows the usual cliches. The less known Canadian movie Lloyd the Conqueror does the same.
Both movies have reluctant male leads who are forced to larp by external circumstances. Both protagonists are really bad larpers, and routinely disrupt the game experiences of others. Taking larp seriously is seen as suspect and weird.
In these movies, larp is essentially a male pursuit. Among the major characters, there's a single female larper, meant as a romantic interest for the male lead. Misogynistic humor abounds, sometimes simultaneously with material that seems to have been meant as empowering to women.
Knights of Badassdom does one more thing that these movies usually do, but Lloyd the Conqueror doesn't.
The game becomes real.
That is the supreme cliche of all game movies. In Knights of Badassdom, a guy playing a wizard uses a real spellbook, and accidentally summons a demon. As a result, the movie turns into a slasher comedy.
Despite its cliches, Knights of Badassdom is fun to watch. Or at least it was for me, as someone who has seen a lot of these movies. In its own category, its well made and often funny, which is more than can be said for most larp movies. Its nice to see so many familiar actors, like Peter Dinklage, Summer Glau, Ryan Kwanten, Danny Pudi or Steve Zahn.
Still, the sexist jokes and the dismissive attitude towards larp are annoying. The female lead played by Summer Glau is in the larp only to take care of her mentally unstable cousin. By the end of the movie, she and the male lead have successfully stopped larping.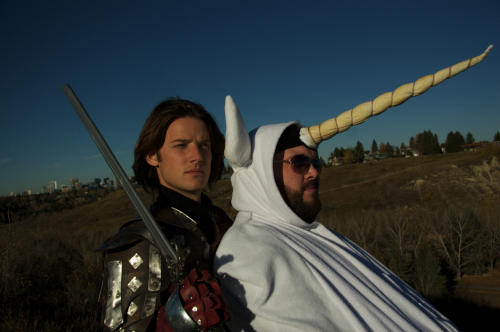 (Lloyd the Conqueror)
If Knights of Badassdom is larp movie as a slasher comedy, then Lloyd the Conqueror is larp movie as a slacker comedy transitioning into a sports underdog story. Lloyd is a college student about to fail a class. His teacher is an evil larper who blackmails Lloyd and his friends into participating in a larp tournament. Trained by a veteran larper and game store worker, they succeed in the tournament against all odds. Often by cheating and off-gaming.
Lloyd the Conqueror is a strange movie. Its often fun to watch. The cast is good, and the jokes sometimes work. The female lead, a women's self defense instructor, is pretty funny. Later in the movie, she uses ideas from larp in teaching her class. When one of the slackers insults larp, the mentor character actually exhibits some backbone and attempts to evict him from the game store.
Still, the sexist jokes… In the worst one, it's posited that if women were more like men, they would be turned on by harassment. The protagonist is a creepy stalker, and naturally gets the girl with his stalking moves.
Knights of Badassdom and Lloyd the Conqueror are better larp movies than most. Still, I wouldn't want what I do to be represented by either one of them.