The Nordic larp conference Knutpunkt will be held shortly. The books published together with the conference are now available as free PDFs. This time, there's two: a collection of new articles called The Cutting Edge of Nordic Larp and a collection of old articles humbly titled The Foundation Stone of Nordic Larp.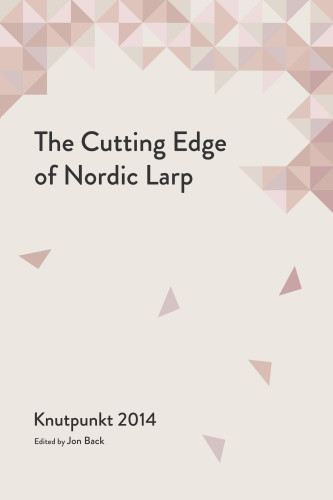 The Cutting Edge of Nordic Larp is edited by Jon Back. It's the traditional Knutpunkt book, a collection of new articles about Nordic larp and related subjects. There's two articles in the book about our larp Halat hisar, one by myself (Larp for Change) and another by Kaisa Kangas (Bringing the Occupation Home).
There's other good stuff in the book too. Harald Misje, Martin Nielsen & Anita Myhre Andersen's article about taking children's larp to a Palestinian refugee camp in Lebanon is extremely interesting. I've always taken the power of larp as an article of faith, but articles like these make me realize it's not a matter of faith anymore.
Alexey Fedoseev writes about "almost larp" productions made in other fields like cinema or the theatre. Reading the article, it feels that if these projects had been organized inside the discourse of larp, their status as larps would not be questioned.
Markus Montola writes about how crowdfunding worked in the larp The Monitorship Celestra. I played in that game myself, and the expectations and relationships created by the funding structure affected my game greatly.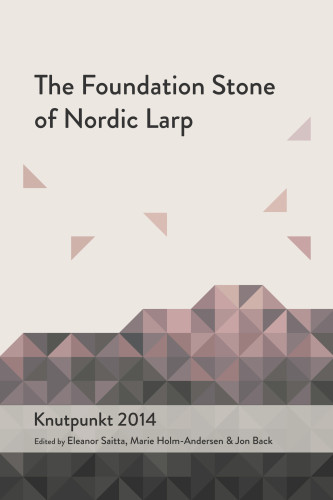 The Foundation Stone of Nordic Larp is edited by Eleanor Saitta, Marie Holm-Andersen & Jon Back. It's a collection of old articles, manifestoes and talks. The idea is that if you're new to Nordic Larp, you can pick up this book instead of immediately reading through all the old Knutpunkt books. Many of the articles are from old Knutpunkt books, but not all. There's two from the one I edited, States of Play: Simo Järvelä's The Golden Rule of Larp, about larp ethics, and Larp and Aesthetic Responsibility, by Tova Gerge.
Old articles have new prefaces written from a current point of view, which is good because many of them require some historical context. Even if you've already read all the old articles, it's still worthwhile to go through the new introductions.