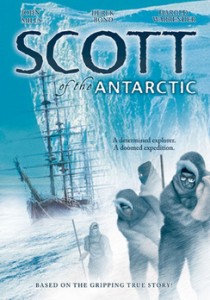 Film: Charles Frend: Scott of the Antarctic (U.K. 1948)
This is the old Ealing Studios version of Scott's fatal, final adventure. At the time the movie was made, Scott was still a saint, and you can see it in the film. This is not a movie so much as a creaky series of illustrations of the famous moments of the great explorer's last expedition.
The Scott of this movie is not even a hero, he's a symbol spouting famous lines. They're all here, from "Great God, this is an awful place", to "I may be some time".
It didn't help that the DVD I watched this from had an absolutely wretched picture and sound, although it probably wouldn't have been much better even in pristine quality.