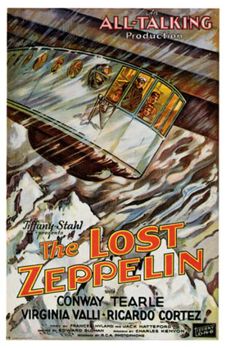 Movie: Edward Sloman: The Lost Zeppelin (U.S.A. 1929)
An early talkie, this is a simple story about an American Navy explorer who leads a zeppelin expedition to the South Pole. On the night before he departs, he discovers his wife kissing with his second in command. They leave for South Pole anyway, but there's some tension in the air.
The basic setup is not bad, but the movie is terrible. It starts with half an hour of endless talking in a drawing room and in a party before the departure. After that, the confusing Antarctic scenes are a blessing. It looks surprisingly good once the action moves to the ice, but this doesn't save it from the sheer suckiness of the script and anything that doesn't involve special effects.