Seikkailijaporukkamme on onnistunut saamaan haltuunsa Caed Nuan raunioituneen linnakkeen. Sen alta paljastuu luolasto, joka tuntuu jatkuvan loputtomiin maan syvyyksiin. Ensimmäiseltä ja ylimmältä tasolta löytyy vihreää kiveä oleva valtava käsi, ikään kuin jättimäinen hahmo kurkottaisi kohti taivasta.
Matkatessamme syvemmälle luolastoon törmäämme kataliin hirviöihin ja ansoihin, jotka kerta toisensa jälkeen rampauttavat seikkailijamme. Surmaamme inhan mustan liman, jolta löytyy sapeli. Sen avulla löydämme salaisen kammion. Mitä jännittävää sieltä löytyy?
Seinätaulu, muistokirjoituksia? Ehkä pelin maailma avautuu meille jännittävällä tavalla!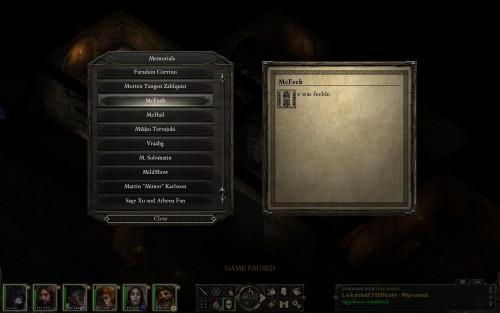 (Monumentti McFeebille. Pillars of Eternity)
Muistotaulussa lukee "McFeeb". Häntä on huomioitu sanoilla "He was feeble", hän oli heikko.
Muita muistettavia henkilöitä ovat MeHail, Vraagh ja Martin "Mimer" Karlsson. Pelin muistotauluista löytyy muutama suomalainenkin, mutta he ovat jättäneet niin koskettavia lapsille tai edesmenneille perheenjäsenille omistettuja kirjoituksia, etten kehtaa ruveta ilkkumaan heitä tässä.
Luolaston syvyyksistä löytyy McFeebin monumentti siksi, että Pillars of Eternity on Kickstarter-peli. Kampanjasivua voi käydä tsekkaamassa täällä.
Moni pelin elementeistä on sidottu Kickstarteriin. Kaupunkeja ja tavernoita kansoittavat sivuhahmot, joita on siunattu loputtomilla taustajorinoilla. Luolaholvien muistotaulut. Jopa Caed Nuan linnake on Kickstarterin stretch goal, samaten kuin sen alla oleva luolasto.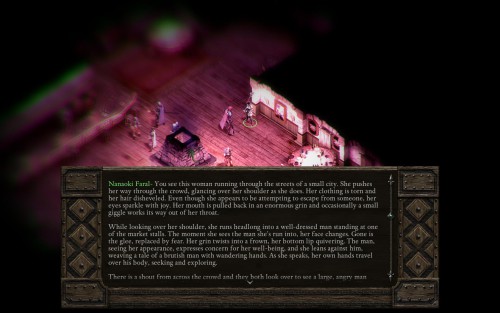 (Pelissä on sivuhahmoja, joiden sieluja tutkailemalla voi löytää loputtomia taustajorinoita. Niillä ei ole mitään tekemistä minkään kanssa. Pillars of Eternity)
Kickstarteriin kuuluu tietty yhteisöllisyys, ja on hauskaa että niin monet ovat ottaneet Pillars of Eternityn asiakseen. Pelillä on omistautuneita faneja, ja on tavallaan sopivaa, että heidän osallisuutensa näkyy myös pelissä.
Valitettavasti rahoittajille myönnetty näkyvyys rumentaa peliä. Esteettisestä ja pelikokemuksen näkökulmasta McFeeb on rujo häiriö muuten tyylikkäässä pelissä. Se on kuin keskiaikainen kirkkomaalaus, johon on Jeesuksen ja opetuslapsien viereen maalattu paroni, joka maksoi koko taulun.
Sama pätee joihinkin pelin stretch goaleina lisättyihin ominaisuuksiin. Normaaliin pelintekemiseen kuuluu, että ominaisuuksia lisätään ja karsitaan sen mukaan, mikä toimii. Jos ominaisuus on jo luvattu Kickstarter-yleisölle, ei sitä voi enää ottaa pois.
Pillars of Eternityn tapauksessa Caed Nuan tukikohta jää irralliseksi eikä sen alla oleva luolasto ole erityisen inspiroitunut. Ne ovat filleriä pelissä, joka pärjäisi ilmankin.
Pillars of Eternity on hyvä peli, ja on hienoa että tällaisille projekteille löytyy rahoittajia. Nuo rahoittajat eivät silti kuulu Jeesuksen ja opetuslapsien rinnalle, osaksi peliä.