Olen saanut töitä siivoojana. Asiakas on rikas, ja hänellä on valtava kämppä. Kaksi kerrosta, valtavia valoisia tiloja ja talvipuutarha. Ensimmäisenä työpäivänä hoidan varsinaiset tehtäväni, mutta teen paljon muutakin. Asiakas on ilmeisesti juuri muuttanut asuntoon, joten availen laatikoita ja laitan asioita paikalleen. Kaikki on mielenkiintoista ja jännittävää.
Pian alan ryytyä. Työ on itseääntoistavaa. Katson työtehtävät, tulen sisään, hoidan hommat, häivyn.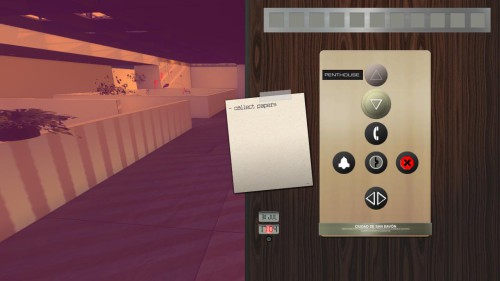 (Jokaiselle päivälle on työlista.)
Pelin nimi on Sunset, ja se on ilmestynyt juuri. Tekijänä on belgialainen Tale of Tales -studio, ja rahoitus tuli Kickstarterista. Tale of Tales on kahden hengen operaatio, ja se näkyy myös peleissä: Ne ovat pieniä, fiksuja ja kauniita. Sunset ei ole poikkeus.
Tavallinen arkinen työ ei ole kovin yleistä videopeleissä. Mafia II on peli, jossa päähenkilö yrittää pysyä kaidalla polulla ennen kun saa tarpeekseen ja rupeaa rikolliseksi. Kaitaa polkua havainnollistetaan itseään toistavalla ja ankealla pelitoiminnalla, joka ei johda mihinkään. Sen kanssa voi räpeltää kunnes saa tarpeekseen ja ryhtyy mafiamieheksi.
Arki on ankeaa, peli on glamouria. Jos pelissä tehdäänkin työtä, täytyy ammatin olla palkkamurhaaja, hirviönmetsästäjä tai salainen agentti.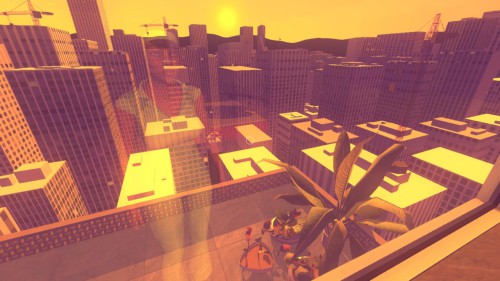 (Kaupungissa tapahtuu, mutta asunnossa pitää silti tiskata.)
Sunset ei toistostaan huolimatta ole siivoussimulaattori. Sen ideana on kertoa latinalaisessa amerikassa tapahtuvasta yhteiskunnallisesta sekasorrosta yhdestä, hyvin tarkkaan rajatusta näkökulmasta. Pelaajahahmo on siivoaja, ja hän siivoaa samalla kun ulkona rytisee.
Pelin toiminnot koostuvat työstä, mutta siinä on ennen kaikkea kyse tavallisen ihmisen näkökulmasta. Joissain muissa peleissä ollaan keskellä toimintaa. Sunsetin kauneus syntyy siitä, että pelaajahahmo on siinä missä pelaajakin saattaisi olla vastaavassa tilanteessa: Tekemässä hommia, huolestuneena siitä mitä seuraavaksi tapahtuu.